You are currently browsing the category archive for the 'Lisa Begin-Kruysman' category.
In 2014 while attending a beverage industry trade show in New Jersey, I had the good fortune to meet Bert Butler "Tito" Beveridge II, the founder of Tito's Hand Made Vodka. Yes, Tito's real last name is Beveridge and while the comparison of his name to the word beverage might get tiresome for him at times, his genuine concern for animal welfare does not.
Dapper, professional and genuine, Beveridge struck me as someone who just might like dogs. I'd wanted to ask him if he did, but it was a busy event with many people to meet. I didn't get the chance. Later, while visiting the Tito's official website, I detected a distinct dog-loving presence that confirmed my suspicions.
The following year, while participating as a panelist at the BlogPaws Conference in Arizona, I'd discovered that Tito's Vodka for Dog People was one the sponsors for the event. BlogPaws is the world's largest organization for those who support animal welfare through blogging and the use of Social Media. The collaboration made sense.
Tito's Handmade Vodka was born in Austin, Texas. Commercial production began in 1997 when Beveridge formed Fifth Generation, Inc., establishing his Mockingbird Distillery. Tito's Vodka "went to the dogs" when in those early days the budding entrepreneur wished to help the stray dogs  wandering near his distillery. 
Today, that commitment to help homeless dogs has manifested as a marketing platform with a mission; Tito's Vodka for Dog People, a company established to help raise funds for animal welfare and non-profit organizations through the sale of Tito's, product donation, event support and branded merchandise. Presently, Tito's Vodka for Dog People collaborates with thousands of animal welfare non-profits groups world-wide, and partners with approximately 700 additional animal welfare groups on fundraising events each year.
According to Elizabeth Bellanti Pander, Program Manager, Vodka For Dog People this entity embraces the innate connection humans have with their dogs. As she explains, "Working with Tito Beveridge to bring his business dream to life for over 20 years, we've been committed to rescuing and protecting the dogs that have come into our lives through this process." With the continual support of dedicated dog-loving friends and a growing fan base, their goal to improve the lives of pets and their humans far and wide has been successfully met.
In their effort to support their work on behalf of dog welfare, Vodka for Dog People partnered with Emancipet, a nonprofit organization with a mission to offer low cost veterinary services and spay/neuter procedures in underserved communities. Through this partnership, Tito's Vodka for Dog People and Emancipet have helped to reduce the number of pets euthanized in Austin, Texas and elsewhere. Amy Mills, CEO of Emancipet, her staff, and volunteers truly understand that pets bring immeasurable joy to the lives of their humans and that all pets deserve high-quality affordable veterinary care. Emancipet also assists nonprofits in the areas of rescue, transport, therapy and guide dogs.
On the Vodka for Dog People's website one can choose from an array of products of dog-oriented merchandise including wearable items for humans, barware, dog swag and more. All profit from these sales go to aid Emancipet, a Texas-based nonprofit organization with a mission to offer high-quality spay/neuter procedures for area pet owners and affordable quality veterinary care.
In 1999, during their first year of operation, Emancipet provided 5,000 low-cost spay/neuter surgeries in the Austin area onboard a mobile clinic. In impoverished areas, Emancipet and the City of Austin partnered to offer "Free Days" for these procedures once a week. With the help of grants from PetSmart Charities and Impact Austin, Emancipet opened their first brick and mortar low-cost spay/neuter clinic, to serve pet owners inside and outside of Austin.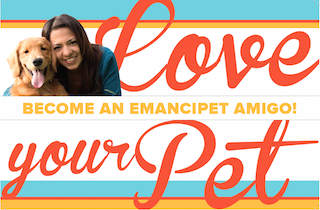 In 2009, celebrating ten years of successfully helping animals, they reached the milestone of offering 100,000 free and low-cost spay/neuter surgeries for pets in Central Texas. Within 2 years, Emancipet added a second mobile clinic expanding their service area to include the entire Central Texas region, spanning 7 counties.
The positive effect of their efforts is staggering. Since its inception, Emancipet has been responsible for the spay/neuter procedures for nearly 250,000 dogs and cats. By 2016 they'd offered veterinarian care for more than 100,000 pets in locations in Austin, Pflugerville, Killeen, and Houston, Texas and Philadelphia, Pennsylvania.
Through a national social change training program, Emancipet continues to address the growing need for services; working to end animal homelessness through three primary initiatives—new clinics, training, and advocacy. This year, Emancipet opened a new clinic in the Lawncrest neighborhood of North Philadelphia. This clinic staffed by a team of veterinarians and veterinary technicians who've been handpicked now offer spay/neuter and preventive services to a population in need of these services
In this new Philadelphia clinic, a caring veterinary technician assists pet owners to determine the pet's needs. Low-cost spay/neuter services are offered Tuesday, Thursday, and Saturday, with appointments required. walk-in preventive care provided by a staff veterinarian, such as vaccinations, microchipping, as well as flea and Heart Worm prevention are also offered at this location. Emancipet's training team also offers training and support services to help local animal welfare organizations, spay/neuter clinics and public and private shelters.
This training aims to boost spay/neuter efficiency and impact, develop leaders and staff, improve customer service, strengthen organizational infrastructure and advocate for strategies and public policy that improve the lives of pets in underserved communities. Emancipet educates organizations to achieve these results through dynamic and fun training experiences that include seminars held in Austin, and elsewhere, providing private personalized training for animal advocates and groups.
Vodka for Dog Lovers continues to be innovative in their unique efforts to promote dog welfare. In January 2017 they opened a bar in the Wells Fargo Center in Philadelphia, the venue for the Philadelphia Flyers and 76ers games with a theme that embraces their partnership with Emancipet. A portion of proceeds from cocktails will help to fund their national expansion in the Philadelphia market and beyond.
Here's to Tito Beveridge and his dedicated workers and partners who are enjoying amazing business success and paying it forward for the pets and people who need a helping hand, or paw, in Texas and beyond. May their business and philanthropic initiatives inspire many more to do the same.
To learn more about Tito's Vodka for Dog People please visit: http://www.titosvodka.com/dogs/
To learn more about the services and locations for Emancipet: https://emancipet.org/
Photo credits: Elizabeth Bellanti Pander
     February is Spay and Neuter Awareness Month and Prevent a Litter Month, making Sunday, February 12, especially memorable for me, when I attended the Dog Writers Association of America's Awards Banquet in New York City.
     Late last year, while filing entries for the DWAA's Annual Writing Competition, I entered a blog post I had published in August  2016 to be considered for the North Shore Animal League America Special Award for a piece titled "Desert Paws" about a successful Spay and Neuter program in New Mexico.
(see Link below).
     Unlike entries in the Regular Categories, the names of those who receive a Special Award/Grant are not revealed until the day of the Awards Banquet. I knew, for instance, I had been nominated in the Art and Short Fiction Categories, and that alone was truly exciting.
     At the event, I was also fortunate to be part of a speakers panel featuring Carol Bryant of Blog Paws, Maggie Bradburn Marton, Amy Tokcic for a writing seminar offered by the DWAA. Topics included navigating the publishing industry, pet blogging and utilizing Social Media effectively. I was also thrilled to receive a Maxwell Medallion for my Short Story Second Chances and also presented the first-ever Captain Wm. Lewis Judy Award to Bud Buccone for his video, "My Buddy" honoring Military Dogs of WWII!
     I haven't blogged much these days as I've been focusing on book length projects, however, if my posts can make a difference, I hope to do more of this in the coming year.
     Preventing unplanned and ultimately unwanted litters of cats and dogs is the truest rescue there is. There will always be displaced and unhomed companion animals, however, if the unplanned pet population is reduced through Spay and Neuter initiatives, those pets that find themselves without homes will be fewer in number and will benefit from healthier and happier shelter and foster experiences. Please support those who are working so hard to make the world a better place for humans and animals, like the folks at Desert Paws. 
To read the winning post for the North Shore Animal League America Award:
Desert Paws Offers a Regional Program as a Model for Nation-Wide Spay & Neuter Initiatives
To Read Second Chances (Maxwell Medallion Award for Short Fiction):
http://4theloveofanimals.com/blog/2016/07/20/second-chances/
Preparing for my participation in the fast-approaching Cat Writers of America/BlogPaws Conference in Arizona this June, I reflect on the past six years and my own path to becoming an author.  Back then, I wondered if I'd ever get a book completed, published and promoted, let alone be invited to talk about it at a conference!
Today, I am happy to say that I have birthed five books, with several in various stages of production and review. Although my primary topic has focused on canines, and those who celebrate them, I am  open to any topic that fascinates me including sports, history, and travel.
While I have averaged a book a year, nothing has unfolded as planned, and in many ways, I feel I am just warming up and I didn't even begin writing "siriusly" until 2010.
Whenever someone learns that I am an author, they quickly tell me that their friend, or a family member, has written a book (congrats), or, that they, them, themselves, have a great idea for a book. In truth, many of these ideas are very good and have potential, but the big question is, how will they get their idea on the path to publication?
If their book idea falls under the category of Non-Fiction (memoir, how-to, history) there is one phrase that separates the wannabe author from the true "story-teller" who is willing to go-the-distance and endure the rocky road to get it all down and done…the Full Book Proposal.
I am always glad to help those in their authoring journey within reason, however, if they aspire to write Non-Fiction, the first thing they will receive from me are examples and templates for creating a strong Full Proposal, which typically is comprised of several parts that requiring a GREAT deal of thought, planning, research and editing. That Proposal, is your book's blue print, and will also require something called a Query, a few short paragraphs that accompanies the Proposal –  that will make an agent or editor want to dive in to your Proposal, and take your book out of the "Slush" pile.
This is part of what I will be speaking about at the BlogPaws Conference in Phoenix come June, in the company of so many other bloggers, reporters, authors, publishers and social media specialists. As someone who has worked with agents, and publishers, I will be asking my personal partners in the publishing world for advice that I can share with those attending the BlogPaws Conference to help them to create strong, saleable projects. I will also discuss Fiction projects that have their own special guidelines.
The CWA/BlogPaws event is open to anyone, at any level, who wishes to learn more about writing for the pet-industry, and beyond. Once you learn the basics of writing a great Proposal, Query and Cover Letter or a sensational Synopsis, the writing process will flow and if being a published author is your goal, you will be on the "write" path and enjoying the journey and all the emotions it is sure to invoke.
I look forward to learning so much this June. Bring your Proposals (and your ideas) Want to know more, or to make your reservation?: http://blogpaws.com/events/2016-conference/
Keep current on National Dog Week and "Paw-thor" News at: http://www.lisabegin-kruysmanauthor.com
Earlier this month, I had the honor of presenting to the Medford-area (NJ) Branch of the American Association of University Women. Last fall they had contacted me after Tricia Reace, Vice-President of the chapter's literary group read coverage of my book Around the World in 1909: Harriet White Fisher and Her Locomobile that had appeared in the Times of Trenton. http://www.nj.com/mercer/index.ssf/2015/01/book_details_ewing_residents_1909_journey_around_t.html#incart_river
The AAUW's mission is to advance equity for women and girls through advocacy, education, philanthropy and research, breaking through educational and economic barriers so that all women have a fair chance.
When Cid Richards, Vice President of Programs, contacted me she explained that each year the group invites a woman author from New Jersey as their guest presenter at their annual Book & Author Champagne Brunch. The goal of this occasion is to raise money for their scholarship fund. As this book was authored by an author from New Jersey, about a New Jersey-based automotive pioneer, she thought the event's attendees would appreciate this subject matter during Woman's History Month.
At this gathering that over-looked the beautiful grounds of Medford Leas, I addressed a roomful of women (and a few men) that were fascinated by the life and travel of Trenton's Harriet White Fisher and her intrepid band of traveling companions. Together, this team covered four continents during the course of thirteen months in a vehicle called a Locomobile.
During the event, I received several questions about Harriet's trip as well as inquiries about how I came to tell her story and about my writing process and impressions of the publishing industry. What a great opportunity to share, and hopefully inspire, others.
At the conclusion of the address, I had the pleasure of signing copies of Around the World in 1909 as well as copies of Dog's Best Friend and Something's Lost and Must be Found. As an added bonus, I learned that a donation had been made in my name to the Alice Paul Institute. The Alice Paul Institute educates the public about the life and work of Alice Stokes Paul (1885-1977), author of the Equal Rights Amendment, and offers heritage and girls' leadership development programs
I thank all of those of the AAUW involved in making the day so special including Elsie Behmer, Co-President, Treasurer Mary Ann Brookes, VP of Membership and Publicity coordinator June Ramondetta, Co-Vice President Literature Group Tricia Reace, AAUW NJ State Board Member Mary Switzer and of course, Cid Richards, Tri-Vice President of Programs; my point of contact throughout the planning process.
In turn, I will be contributing a percentage of book sales from this event to my "Be the Change" collection to benefit a local animal advocacy group.
Happy National Women's History Month, Happy Spring. Watch for exciting news about National Dog Week 2016 in a subsequent post. Visit and LIKE the NDW Page:https://www.facebook.com/National-Dog-Week-218596591491974/?fref=ts
"Between the attitude toward the dog of those far past centuries and the attitude of today is a vast journey in the direction of kindness and a heart of sympathy."    Will Judy, 1949
On Valentine's Day, my husband Rich and I headed into New York City for the Dog Writers Association of America's Awards banquet. Fittingly, my book, (a true labor of love),  Dog's Best Friend: Will Judy, Founder of National Dog Week, and Dog World Publisher, had received a Maxwell Medallion nomination in the Reference category. As Judy was highly influential in the establishment of the DWAA back in 1935, and Maxwell Riddle was his protégé, it was quite an honor. Alas, we did not bring home the Maxwell but some stellar connections were made and more books are in progress. One of them a collaboration with Laura Pople, founder of Seer Farms, will share the poignant stories of the people and pets of this special place.
Located in a rural area of New Jersey, Seer Farms was founded in 2009 by Laura and her board, to embrace the mission that our pets are truly family members and no circumstance should ever separate them from us. Seer Farms is a facility that will take in the family cat(s) or dog(s) (and occasional "other" creature) of those in need and care for them until the situation permits pets and people to reunite under one roof.  These pets come to her as the result of military deployments, domestic violence, natural disasters and from pet owners who are going through challenging times and need a hand in caring for their pets until more fortunate circumstances prevail. By offering this unique opportunity, many pets are saved from abandonment and uncertain fates.
I had the opportunity to meet Laura recently when Rich, and dog, Teddy, helped me deliver a collection of donated supplies. During our visit, we met a woman who was there to spend time with two of her dogs that are being cared for by the facility. Deb told us that she had lost her home in Hurricane Sandy, and like many others, still had not fully recovered from that life-changing event of three and a half years ago. Her home is in the process of being raised and when that is complete, she and her dogs will enjoy their special Reunion Day when they hop into her car and take that much-awaited ride home. Deb appreciates these visits but notes that at the end of each, her dogs try to lead her to the car so that they can go home with her. As someone who personally witnessed the devastation of that storm, I can attest to how important this oasis has been for so many.
I can't think of a happier event than the occasion of something like Reunion Day  – having your beloved pet once again by your side,  – having come through the worst of times, and now, ready to provide comfort and support to each other as their journey continues.
In her actions and her life's work, Laura and her staff and board, have made a major difference in the lives of animals, and the humans who love them. Their work and mission fully embrace what Will Judy wrote so many years ago, "Between the attitude toward the dog of those far past centuries and the attitude of today is a vast journey in the direction of kindness and a heart of sympathy."
I thank all those who contributed to our Seer Farms supply drive: Maureen Johnson and the Sayer and Schoberg Families, Bonnie Werkmeister, Boy Scout Pack 16 of Pt. Pleasant, NJ, Skittles (the Bichon) Barros and the members of the Junior Auxiliary Unit of American Legion Post 348 in Brick, NJ.
Recovery, Reunion, Renewal….that is the goal of Seer Farms. To read more about this unique sheltering model, its staff and volunteers:http://seerfarms.org/
Come join in the fun and hear me speak about writing for the pet-industry and beyond at the Blog Paws Conference in Phoenix, AZ June 23-25. https://www.pinterest.com/blogpaws/blogpaws-conference-photos/
"The public should be taught to demand a sound, healthy dog, bred and raised in sanitary environment…" Captain Wm. Lewis Judy, Founder of National Dog Week and Dog World Publisher
Far too often, people continue to support the puppy mill system with their purchases of dogs at retail outlets. To protect the buyer, and to put a stop to the secretive abhorrent practices of the puppy milling business, laws are created and passed, however, the enforcement of these laws  must occur to bring about positive change. We can end all this if we choose to adopt our pets, or to work with breeders who truly love and care about the dogs they bring into the world, even after the sale is complete. If you truly love all dogs, you understand.
Thank you Janice Patterson Fisher for this update found below and your work on behalf of our dogs.
As some of you know, a new consumer protection law became effective on June 1, 2015 enhancing the Puppy Lemon Law for all customers buying a puppy from a pet store in the state of New Jersey. This law is the Pet Store Disclosure Act that specifically requires pet stores to provide specific breeder information on each cage cards, including two years' worth of USDA inspection reports for the breeder/broker of any puppy offered for sale in a pet store. Cage cards must now include: breeder name, address, e-mail address, if available, USDA-license number. Most importantly, no New Jersey pet store may buy puppies from a breeder unless he possesses a USDA license and a state license, if a state license is required.
For many years, New Jersey pet stores refused to divulge breeder information to customers until the sale of a puppy was complete. The only logical reason for this is that they shuttered to think what a customer would feel should they know the truth…that these puppies are mass bred in commercial facilities known as puppy mills. According to the New Jersey Federation of Dog Clubs (a premium club consisting of over 80 breed-specific clubs), no responsible breeder would sell to a pet store. Therefore, New Jersey pet stores had but one source: puppy mills.
Even with this law in effect, the majority of New Jersey pet stores have not fully complied. Despite visits and warnings from the New Jersey Division of Consumer Affairs and assistance from New Jersey animal advocates, these stores appeared to hedge their bets that the state would not truly enforce the penalties. But they were wrong; in December, these stores received an early Christmas present in the "package" of Notices of Violation – Fines – from the state for failure to adhere to the law.
Some stores have complained that their errors were clerical. Not so. Each and every store was visited by state investigators. A copy of the law was provided. Time was provided to them to come into compliance.
The law is simple to read. Provide specific breeder information on the cage cards and conspicuously post USDA inspection reports on or near the cage. Not hard to follow. These stores obviously chose not to follow the law and continue to hide the fact that the puppies they sell come from despicable brokers and breeders.
Let's hope that these fines teach the puppy-milling industry a lesson….they are not above the law and all consumers have a right to know how a product is manufactured. In this case, and unfortunately, the product is a living being – a puppy and it is "manufactured" in the most inhumane way.
http://www.nj.gov/oag/newsreleases16/Pet-Shop-Violations-CHART-01042016.pdf
Happy New Year. 2015 ended with some amazing news surrounding Dog's Best Friend and my work on behalf of the National Dog Week Movement. I thank so many of you for your interest and support and wish you all a very rewarding and successful New Year!
Who Let the Dogs In? New Online Exhibit Captures the Legacy of Captain Will Judy and National Dog Week
 In collaboration with Amy Breyer, Executive Director of the Animal History Museum, I am pleased to announce that my online exhibit was successfully curated and went live on the museum's site in December.  This innovative exhibit, titled "Who Let the Dogs In?", chronicles the inspiring history of National Dog Week and its founder, Captain William Lewis Judy.
Americans have enjoyed a long-time love affair with animals – domesticated and wild. However, despite anecdotal evidence highlighting the important role that animals play in our lives, there has been little formal, institutional acknowledgement of their significance. To fill that void, the Animal History Museum seeks to explore, honor and advance our understanding of the complex and evolving nature of man's interactions with, and relationship to, the other species around us. The museum's mission: understanding and celebrating the human-animal bond.
Established online in January 2012, the Animal History Museum is being developed by a team of professionals who are passionate about all things animal, serving and educating all ages and segments of the general public. With the establishment of a physical site in Los Angeles County, California, the Animal History Museum will become the leading facility in the nation designed solely for the collection, preservation and exploration of the history, culture, science and law relating to the relationship between human and non-human animals.
The museum's website offers several other inspiring online exhibits as well, including: "The Wildlife Photography of Donald D. Feare", "Stories of Older Animal Adoption", "Sit, Stay, Say Cheese! The Early History of Animal Photography, 1850-1915", "Breaking Stereotypes: America's Pit Bull Rescues and the Human Animal Bond", and "I'm Ready for My Close-up Mr. Casteel: The Making of Underwater Dogs."
As the author of Will Judy: Founder of National Dog Week and Dog World Publisher (McFarland & Co.), I am honored to be part of an establishment dedicated to presenting exhibitions, lectures, and other activities that are consistent with, and supportive of, the museum's educational goals and purpose.
Captain Will Judy, as he was known, was a pioneer in the dog-care industry, and one of the founders of the DWAA. As a prolific writer, author and publisher of Dog World  Magazine for decades, Judy almost single-handedly shaped the way modern dogs are regarded in America. Most importantly, he was responsible for making sure the nation's dogs got their week, and still do, during the last full week of September each year with National Dog Week
I hope you enjoy "Who Let the Dogs In?" and will take a virtual tour of the Animal History Museum as well:  http://animalhistorymuseum.org
In 1949, on writing about patients in veterans' hospitals and the role of dogs in their treatment and recovery Will Judy wrote,"The presence and companionship of dogs, the observation of their playful antics has helped patients on their way back to normal thinking and living."
In 2010, upon commencing my research and writing of the biography of Captain William Lewis Judy, I reached out to those in the dog community. One of those individuals was Rose Russo who helped me on my path to "dogdom" by sharing her personal experience and insight on the importance of dogs in our lives. As this year's theme for National Dog Week is "At Your Service-All-ways" I invited Rose to be our guest blogger responding to the question, "How have dogs impacted your life when coping with life's challenges?" We arethankful that she agreed to be our special guest blogger for the 87 Observance of National Dog Week.
"If you are lucky enough to have a service dog then the person you should be thanking is Will Judy. Will Judy was an attorney; soldier and author who realized that dogs serve not only as pets but can assist soldiers in their everyday life and help them cope with the tragedy of war. His instrumental work on National Dog week allows all of us to now have this growing phenomenon, and allows those of us who suffer from physical and mental tragedies to live our lives to the fullest extent possible.
Service Dogs are a very underutilized medical necessity. They have changed the lives of the blind and assist many other in daily life tasks so essential to survival. Even at a time when many are complaining that the use of service dogs has risen unnecessarily, they are an essential need for many.
I could not function without my service dogs. On Sept 11, 2001, I was a New York City Detective. While assisting in the recovery efforts I suffered a disabling nerve disorder (Chronic Regional Pain Syndrome) that will continue to get worse over time. For many years I had difficulty – mentally and physically – with daily life tasks. My anxiety and depression was at an all time high. It was then that I was introduced to the possibility of a service dog. I was skeptical to say the least. But after working with my girls (two King Charles spaniels) my life started to change.
I am now able to conduct many basic daily activities, such as a simple walk in the park, without tremendous fear and anxiety. Without my service dogs I could never have been able to fly again. They have been instrumental in my life and many others. Service dogs have assisted children with court room testimony and even teenagers going off to college being able to cope with life away from their family.
I am currently working with many individuals, especially police officers, who have been able to change their lives due to their service animal. One officer I have worked with was involved in a shooting and became confined to inside his home. He was unable to leave his home and return to work. Through the help of a service dog he has been able to regain the confidence to live his life to the fullest extent possible.
Service dogs are not only needed they are necessary for many to live a full and healthy life. But the program is not without faults. Many have abused the system and taken advantage of a program that was designed to assist those in dire need. Even the Americans with Disability Act allows some of this fraudulent activity by only allowing business owner to ask two basic questions of a patron with a service dog; is this dog used for a disability and what tasks does the dog perform? Without further investigation or proof this allows many to scam the system.
But just because of some fraudulent activity the system should not be broken down. States could easily provide licenses or endorsement on a driver's license to make the service dog program more trusted and official.
Service dogs are an essential necessity for many and are helping those who suffer to function in life and even live life beyond what they had ever thought possible. As those coping with mental and physical disabilities become more understood, people will hopefully continue to see how necessary these dogs are to those unable to cope with the daily physical and mental activities of life and allow them to live the life they want and deserve."
Thank you Rose  for being an important part of the mission of Will Judy's National Dog Week during its 87th Observance and beyond. We hope you all will LIKE our Facebook page and become part of its mission, too. Happy National Dog Week everyone. https://www.facebook.com/National-Dog-Week-218596591491974/timeline/ and visit www.lisabegin-kruysmanauthor.com
This summer, my thoughts are focused on dogs and travel. Having just returned from California, I had the privilege of signing copies of Around the World in 1909: Harriet White Fisher and Her Locomobile (American History Press) at the fabulous Bookshop Santa Cruz venue. This story begins in New Jersey and meanders through the NoCal region so it was especially fitting, and of course it features the incredible Boston bull terrier, Honkie, the first dog to be literally driven around the world. In keeping with this traveling theme, I introduce a pair of sisters who have published a book that has Captured: The Look of the Dog in their own unique manner. Welcome Fern and Gloria!
According to Fern and Gloria, dogs nationwide are begging their humans to read this book. Dog lovers and their best friends now have an evocative whimsical read. This collection of fictional short stories, poems, prose and faceted photographs expose the reader to a fanciful awareness of canines. It answers questions like, "Poo Diddy Poo?" – do dogs have bad hair days – including revealing details of puppy pee-mail.
One reviewer writes…
This book is essential for all dog lovers and pet parents! It captures the essence of dogs – the images itself are beautiful, and the copy is clever and very well-written. You can tell that the authors put their heart and soul (and paws) into this book – and it turned out wonderfully.
Another stated…
It is a good read and not too long and not too short. It is just the right amount of each dog and their little story. It makes you laugh, smile and in some case sad or makes you think. This book makes you want to read more and get to the next dog and the next story. It captures your mind and in some stories your heart!
Captured! is available via Amazon.com, barnesandnoble.com.
Websites: http://www.GloriaYarina.com and http://www.FernGoodman.com
In keeping with our summer travel theme, Gloria and Fern offer these "Oddball Pointers" (their own words) for First Time Dog Travelers:
Before you go-go…
If you are staying at a pet friendly establishment for the first time, make sure to ask them if there are adequate outdoor accommodations. You would think since they are pet friendly, they would have thought of the excrement ramifications, but don't assume. There is nothing worse than being surrounded by cement or stairs or on the fifth floor when your Labradoodle has to diddle in a hurry.
Speaking of the fifth floor. Be aware that all pet rooms/cabins are not created on the ground floor. Does your Border Collie know how to climb stairs? Is your Boxer afraid of being boxed in on an elevator? When that elevator door opens, my 90 pound hound mix charges inside, not caring if there is someone trying to get out of the elevator or if they are afraid of him. Find out what floor you're on.
A word about packing, well two words…extra towels. This is in case of rain or beach excursions. Wet-dog smell is never an air freshener scent. And another three words…extra dog food. You can't always find your brand if you run out.
And awaaay you go…
When our moms told us, "wear clean underwear in case you're in an accident" I think she meant in case you have an accident. For years I stuffed a pair of clean underwear in my purse just in case.
Here's a scenario. Dog travels in a car long distance for the first time, maybe excited, maybe nervous, maybe both. You have the dog in your lap or your dog leans over the front seat or you open the crate to let them pee and PLAHH. Your precious pup pukes on you and your clothes. Have a change of outfit handy is all I'm sayin'.
You arrive…
Examine the room/house where you will be staying. Dog-proof it to eliminate potential disaster. For instance, dead lizards and bugs in corners should be removed to avoid consumption. Floor vases, tail height glass objects, magazines on coffee tables could be transferred to higher elevations.
Out and about…
Be prepared for attention. Strangers may gawk at you like your clothes are on inside out. They'll want to pet your pooch or feed 'em while you're dining. Hopefully they'll ask permission first. Know what breed of dog you have. You'll need to know this for curious minds. If you have answers ready you'll me more relaxed. And isn't that the goal of travel, to relax? Go for it.
Thank you Gloria and Fern for sharing with the fans of National Dog Week. Safe travels to all!
I know for many, holiday weekend plans are underway already, but I want to relay this message from my friend and fellow dog-welfare advocate, Janice Fisher Patterson, who is trying to garner support for a very important issue. I hope my dog-loving friends will help by calling, sending e-mails, and sharing. Did you catch Janice on a recent segment of Dr. Brian Voynick's "The Pet Stop" on News 12 NJ, talking about the new Pet Shop Disclosure Law that was recently instituted in the Garden State? Thank you for your support.
A two-minute phone call and e-mail to your state senator and two assemblymen will make a world of difference to dogs that are tethered 24/7 outdoors in the extreme heat and freezing cold.
District 10 lawmakers, Sen. Jim Holzapfel, Asm. David Wolfe and Asm. Gregory McGuckin, have introduced a bill that will prohibit this cruel treatment of dogs.  Besides being subjected to all types of weather extremes causing physical pain, animal attacks, disease and the threat of being stolen for dog fighting, these animals are usually deprived of human interaction, a cruel fate for highly social animals.
Recently local towns have been adopting their own ordinances prohibiting 24/7 tethering, following a sad situation in Plainfield, NJ where a German Shepherd was left outdoors all winter long on a six-foot chain with only a wire crate for shelter.  This is only one example of the neglect that these animals are exposed to at the end of a chain.  These animals are NOT lawn ornaments and they must not be treated that way.
PLEASE help these animals by contacting your legislators (Senator and two Assemblymen) to ask  that they CO-SPONSOR  (S3061/A4628) (anti-tethering and proper shelter bill).  You can find your legislators by accessing the NJ legislature website:  www.njleg.state.nj.us and look to the left of the home page for "Find Your Legislator."
PLEASE call first and follow up with an e-mail. We thank our caring government officials for promoting the welfare of our Companion Animals. If you have questions for Janice, or you are an animal advocate advocate outside the state of New Jersey, please contact me at pst39crd@aol.com. Thank you.