You are currently browsing the category archive for the 'Lisa Begin-Kruysman' category.
     The 89th Observance of National Dog Week has come and gone, taking its place in American Dog History on the Timeline of the the Tailwagger. In 1928, a man named Capt. Wm. Lewis Judy founded National Dog Week with a mission not to necessarily bring more dogs into the world, but to make the world a better place for the ones already here.

 
     For the past several years, in honor of the occasion during the last week of each September, I've arranged a small event to honor this venerable national tradition. For the past three, I've helped to organize a Yappy Hour on the 'Cric on the grounds of our local American Legion Post in Brick Township, NJ.

 
     Long before the use of Military Dogs was embraced by the US Armed Forces, Capt. Judy saw their value as police dogs and dogs of war while serving in WWI. He also recognized their therapeutic value to soldiers returning home from the war front and encouraged their visits to Veteran Hospitals to help soothe frayed nerves and heal emotional and physical wounds.

 
     Yappy Hour on the 'Cric provides an opportunity for Post members and their dogs to enjoy a few hours of socializing and fun, while raising funds and awareness for Military Canines and their handlers. We thank Post 348 Commander Skip Amundson, Bar Chairman Rich Kruysman, Post Members who supported the event and our sponsor, Tito's Vodka for Dog People for making this event possible. Tito's Handmade Vodka has made it their business mission to raise funds and awareness for issues concerning man's best friend and veterans.
     We also thank our "Dog Week Dozen", Logan, Lily, Lilly, Teddy Labradoodle, Teddy Kruysman, Harley, Macy, Jeter, Skittles, Tabitha, Jet and Ollie for being such good dogs and enjoying the day so nicely with each other, and their humans, on the banks of the creek during the Week of the Dog.

 
     I'll let the photos bark for themselves – many canines were curious about those gift baskets!
     Welcome to the 89th Observance of a special time called National Dog Week. In searching for a quote to begin this post I opened my dog-eared copy of Will Judy's Don't Call a Man a Dog, 1949 (for it would be insulting to the dog) to let that quote find me! Please Note: Today, many dog-lovers don't like the term "dog owner" however, many years ago, the Timeline of the Tail Wagger was still evolving and that term was commonly used.

 
     The sentiment, no matter the wording, still stands stronger than ever.
"People own dogs for varied reasons. The reason is of small consequence; the important item is that the owners be worthy of their dogs. To your dog, you are a god. Do not do anything which destroys this delusion."
     Captain Judy was trained as a minister, became a decorated WWI Veteran, lawyer and one of America's most prolific writers. He published Dog World Magazine for several decades, influencing a new generation of dog-lovers and enthusiasts.
     Judy saw the value of artists and authors and was happy to include them in his magazine's issues and campaigns to promote National Dog Week an observance he launched in 1928 just before the nation was plunged into the Great Depression. But how could a dog get a week when most humans couldn't get one day?

 
     Captain Judy understood the power of the paw and prevailed and in that continuing spirit, n
ext September, National Dog Week will celebrate 90 years of honoring the American Dog. I'd love to see it celebrated in the spectacular fashion it once was on the grounds of Rockefeller Center and elsewhere.

  Suggestions on how to maket that happen are welcome.
     As one young man suggested the other day, it should be International. I'm happy to report that I often hear from people over the world sharing their stories and photos of their pups.
     This year, we've introduced a new logo. The image of a happy hound proudly posing against the backdrop of red, white, and blue is wishing on a star for so many reason. We hope you find it hopeful and inspiring at a time when something so "simple" as a dog's love can help so many get through difficult times.
     Please join us in celebration by LIKING the official National Dog Week Page and posting photos of your dogs (and other pets if they're feeling left out). If you're an artist, author, blogger, rescue pr foster group or do work that is relevant, etc. please share your Links and experiences as well. https://www.facebook.com/NatDogWeek/
     I'll leave you with one more quote from Captain Will Judy:

 
"Dogs are an antidote to the machine-shop-precision and the speeding machinery of our present day tempo of living. Their naturalness, their lack of affectation, their use of the simple reactions of living – always naive, fresh and warm-blooded, are a balance wheel to our whirring life."
     So come tomorrow, try to be the god your dog thinks you are (if only for a week)!
     Happy National Dog Week – Let's keep its spirit alive year-round – 52/12! 
     Learn more about the origin and traditions of National Dog Week:
"Ted, White and Blue – Patriotic Paws"
Five years ago today, we said farewell to our beloved Portuguese Water Dog, Hooper. Named for the Matt Hooper character of  the blockbuster movie Jaws, she really did drive the boat, our house, our lives.
On a cold night in the winter of 2010, "Hoop Girl" was sitting by my feet at the moment I happened upon something called National Dog Week, a quirky yet poignant Canine American Holiday established in 1928. I fell in love with its colorful history, and began writing a biography about its Founder, Captain Will Judy, chronicling its unique, roller coaster-like legacy. In doing so, a new career was launched, and five books later, I've never stopped writing.
Alone with Hooper during the last moments of her life, I had an odd request. I whispered in her ear, "When the time is right, please send Dad and I a special new dog friend, and if possible please send one that likes other dogs and is calm, cool and collected."
It seemed like a strange way to say goodbye to a loyal and loving companion, but in true dog-like fashion, within five months, my heart-felt request was granted when we fostered a little black and white Havanese-mix named Teddy.
Teddy came to us like a bright light in a bleak post Hurricane Sandy landscape. He wasn't intended to stay, but stay he did, and has brought us much happiness. "Steady Teddy" couldn't be any more different than "Hyper Hooper". And unlike Hooper, Teddy adores other dogs. Now, with us for nearly four years, Teddy sits by my feet and inspires me to keep on writing, in fact, a story I wrote, based on his arrival in our lives, will be part of an Anthology released by the Revell Publishing group in October 2018. When the editor titles the book, I will let you know!
And another interesting thing happened with the Tedster by my side. I revamped my art studio and did something I'd wanted to do for a very long time, paint my first pet portrait. The painting of Teddy featured above, draped by the American flag, brings my creative life full circle, and reminds me why I continue to write about dogs and history, or anything else that inspires me. It also captures the spirit of National Dog Week that was established to encourage a collective and thoughtful period when we are mindful of all the ways dogs enrich our lives.
There are many exciting things going on in the Creative Front, and we're working hard and visualizing some good days ahead; creating during challenging circumstances when the sun is temporarily hidden by fleeting clouds; welcoming the positive influences and encouragement from a dog that's been sent to help makes it all worthwhile. That's the ultimate gift.
The 89th Observance of National Dog Week will be celebrated the week of September 25th this year!
In 2014 while attending a beverage industry trade show in New Jersey, I had the good fortune to meet Bert Butler "Tito" Beveridge II, the founder of Tito's Hand Made Vodka. Yes, Tito's real last name is Beveridge and while the comparison of his name to the word beverage might get tiresome for him at times, his genuine concern for animal welfare does not.
Dapper, professional and genuine, Beveridge struck me as someone who just might like dogs. I'd wanted to ask him if he did, but it was a busy event with many people to meet. I didn't get the chance. Later, while visiting the Tito's official website, I detected a distinct dog-loving presence that confirmed my suspicions.
The following year, while participating as a panelist at the BlogPaws Conference in Arizona, I'd discovered that Tito's Vodka for Dog People was one the sponsors for the event. BlogPaws is the world's largest organization for those who support animal welfare through blogging and the use of Social Media. The collaboration made sense.
Tito's Handmade Vodka was born in Austin, Texas. Commercial production began in 1997 when Beveridge formed Fifth Generation, Inc., establishing his Mockingbird Distillery. Tito's Vodka "went to the dogs" when in those early days the budding entrepreneur wished to help the stray dogs  wandering near his distillery. 
Today, that commitment to help homeless dogs has manifested as a marketing platform with a mission; Tito's Vodka for Dog People, a company established to help raise funds for animal welfare and non-profit organizations through the sale of Tito's, product donation, event support and branded merchandise. Presently, Tito's Vodka for Dog People collaborates with thousands of animal welfare non-profits groups world-wide, and partners with approximately 700 additional animal welfare groups on fundraising events each year.
According to Elizabeth Bellanti Pander, Program Manager, Vodka For Dog People this entity embraces the innate connection humans have with their dogs. As she explains, "Working with Tito Beveridge to bring his business dream to life for over 20 years, we've been committed to rescuing and protecting the dogs that have come into our lives through this process." With the continual support of dedicated dog-loving friends and a growing fan base, their goal to improve the lives of pets and their humans far and wide has been successfully met.
In their effort to support their work on behalf of dog welfare, Vodka for Dog People partnered with Emancipet, a nonprofit organization with a mission to offer low cost veterinary services and spay/neuter procedures in underserved communities. Through this partnership, Tito's Vodka for Dog People and Emancipet have helped to reduce the number of pets euthanized in Austin, Texas and elsewhere. Amy Mills, CEO of Emancipet, her staff, and volunteers truly understand that pets bring immeasurable joy to the lives of their humans and that all pets deserve high-quality affordable veterinary care. Emancipet also assists nonprofits in the areas of rescue, transport, therapy and guide dogs.
On the Vodka for Dog People's website one can choose from an array of products of dog-oriented merchandise including wearable items for humans, barware, dog swag and more. All profit from these sales go to aid Emancipet, a Texas-based nonprofit organization with a mission to offer high-quality spay/neuter procedures for area pet owners and affordable quality veterinary care.
In 1999, during their first year of operation, Emancipet provided 5,000 low-cost spay/neuter surgeries in the Austin area onboard a mobile clinic. In impoverished areas, Emancipet and the City of Austin partnered to offer "Free Days" for these procedures once a week. With the help of grants from PetSmart Charities and Impact Austin, Emancipet opened their first brick and mortar low-cost spay/neuter clinic, to serve pet owners inside and outside of Austin.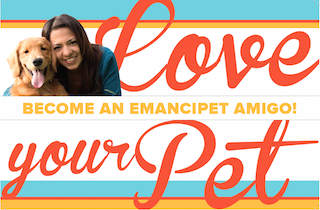 In 2009, celebrating ten years of successfully helping animals, they reached the milestone of offering 100,000 free and low-cost spay/neuter surgeries for pets in Central Texas. Within 2 years, Emancipet added a second mobile clinic expanding their service area to include the entire Central Texas region, spanning 7 counties.
The positive effect of their efforts is staggering. Since its inception, Emancipet has been responsible for the spay/neuter procedures for nearly 250,000 dogs and cats. By 2016 they'd offered veterinarian care for more than 100,000 pets in locations in Austin, Pflugerville, Killeen, and Houston, Texas and Philadelphia, Pennsylvania.
Through a national social change training program, Emancipet continues to address the growing need for services; working to end animal homelessness through three primary initiatives—new clinics, training, and advocacy. This year, Emancipet opened a new clinic in the Lawncrest neighborhood of North Philadelphia. This clinic staffed by a team of veterinarians and veterinary technicians who've been handpicked now offer spay/neuter and preventive services to a population in need of these services
In this new Philadelphia clinic, a caring veterinary technician assists pet owners to determine the pet's needs. Low-cost spay/neuter services are offered Tuesday, Thursday, and Saturday, with appointments required. walk-in preventive care provided by a staff veterinarian, such as vaccinations, microchipping, as well as flea and Heart Worm prevention are also offered at this location. Emancipet's training team also offers training and support services to help local animal welfare organizations, spay/neuter clinics and public and private shelters.
This training aims to boost spay/neuter efficiency and impact, develop leaders and staff, improve customer service, strengthen organizational infrastructure and advocate for strategies and public policy that improve the lives of pets in underserved communities. Emancipet educates organizations to achieve these results through dynamic and fun training experiences that include seminars held in Austin, and elsewhere, providing private personalized training for animal advocates and groups.
Vodka for Dog Lovers continues to be innovative in their unique efforts to promote dog welfare. In January 2017 they opened a bar in the Wells Fargo Center in Philadelphia, the venue for the Philadelphia Flyers and 76ers games with a theme that embraces their partnership with Emancipet. A portion of proceeds from cocktails will help to fund their national expansion in the Philadelphia market and beyond.
Here's to Tito Beveridge and his dedicated workers and partners who are enjoying amazing business success and paying it forward for the pets and people who need a helping hand, or paw, in Texas and beyond. May their business and philanthropic initiatives inspire many more to do the same.
To learn more about Tito's Vodka for Dog People please visit: http://www.titosvodka.com/dogs/
To learn more about the services and locations for Emancipet: https://emancipet.org/
Photo credits: Elizabeth Bellanti Pander
     February is Spay and Neuter Awareness Month and Prevent a Litter Month, making Sunday, February 12, especially memorable for me, when I attended the Dog Writers Association of America's Awards Banquet in New York City.
     Late last year, while filing entries for the DWAA's Annual Writing Competition, I entered a blog post I had published in August  2016 to be considered for the North Shore Animal League America Special Award for a piece titled "Desert Paws" about a successful Spay and Neuter program in New Mexico.
(see Link below).
     Unlike entries in the Regular Categories, the names of those who receive a Special Award/Grant are not revealed until the day of the Awards Banquet. I knew, for instance, I had been nominated in the Art and Short Fiction Categories, and that alone was truly exciting.
     At the event, I was also fortunate to be part of a speakers panel featuring Carol Bryant of Blog Paws, Maggie Bradburn Marton, Amy Tokcic for a writing seminar offered by the DWAA. Topics included navigating the publishing industry, pet blogging and utilizing Social Media effectively. I was also thrilled to receive a Maxwell Medallion for my Short Story Second Chances and also presented the first-ever Captain Wm. Lewis Judy Award to Bud Buccone for his video, "My Buddy" honoring Military Dogs of WWII!
     I haven't blogged much these days as I've been focusing on book length projects, however, if my posts can make a difference, I hope to do more of this in the coming year.
     Preventing unplanned and ultimately unwanted litters of cats and dogs is the truest rescue there is. There will always be displaced and unhomed companion animals, however, if the unplanned pet population is reduced through Spay and Neuter initiatives, those pets that find themselves without homes will be fewer in number and will benefit from healthier and happier shelter and foster experiences. Please support those who are working so hard to make the world a better place for humans and animals, like the folks at Desert Paws. 
To read the winning post for the North Shore Animal League America Award:
Desert Paws Offers a Regional Program as a Model for Nation-Wide Spay & Neuter Initiatives
To Read Second Chances (Maxwell Medallion Award for Short Fiction):
http://4theloveofanimals.com/blog/2016/07/20/second-chances/
Preparing for my participation in the fast-approaching Cat Writers of America/BlogPaws Conference in Arizona this June, I reflect on the past six years and my own path to becoming an author.  Back then, I wondered if I'd ever get a book completed, published and promoted, let alone be invited to talk about it at a conference!
Today, I am happy to say that I have birthed five books, with several in various stages of production and review. Although my primary topic has focused on canines, and those who celebrate them, I am  open to any topic that fascinates me including sports, history, and travel.
While I have averaged a book a year, nothing has unfolded as planned, and in many ways, I feel I am just warming up and I didn't even begin writing "siriusly" until 2010.
Whenever someone learns that I am an author, they quickly tell me that their friend, or a family member, has written a book (congrats), or, that they, them, themselves, have a great idea for a book. In truth, many of these ideas are very good and have potential, but the big question is, how will they get their idea on the path to publication?
If their book idea falls under the category of Non-Fiction (memoir, how-to, history) there is one phrase that separates the wannabe author from the true "story-teller" who is willing to go-the-distance and endure the rocky road to get it all down and done…the Full Book Proposal.
I am always glad to help those in their authoring journey within reason, however, if they aspire to write Non-Fiction, the first thing they will receive from me are examples and templates for creating a strong Full Proposal, which typically is comprised of several parts that requiring a GREAT deal of thought, planning, research and editing. That Proposal, is your book's blue print, and will also require something called a Query, a few short paragraphs that accompanies the Proposal –  that will make an agent or editor want to dive in to your Proposal, and take your book out of the "Slush" pile.
This is part of what I will be speaking about at the BlogPaws Conference in Phoenix come June, in the company of so many other bloggers, reporters, authors, publishers and social media specialists. As someone who has worked with agents, and publishers, I will be asking my personal partners in the publishing world for advice that I can share with those attending the BlogPaws Conference to help them to create strong, saleable projects. I will also discuss Fiction projects that have their own special guidelines.
The CWA/BlogPaws event is open to anyone, at any level, who wishes to learn more about writing for the pet-industry, and beyond. Once you learn the basics of writing a great Proposal, Query and Cover Letter or a sensational Synopsis, the writing process will flow and if being a published author is your goal, you will be on the "write" path and enjoying the journey and all the emotions it is sure to invoke.
I look forward to learning so much this June. Bring your Proposals (and your ideas) Want to know more, or to make your reservation?: http://blogpaws.com/events/2016-conference/
Keep current on National Dog Week and "Paw-thor" News at: http://www.lisabegin-kruysmanauthor.com
Earlier this month, I had the honor of presenting to the Medford-area (NJ) Branch of the American Association of University Women. Last fall they had contacted me after Tricia Reace, Vice-President of the chapter's literary group read coverage of my book Around the World in 1909: Harriet White Fisher and Her Locomobile that had appeared in the Times of Trenton. http://www.nj.com/mercer/index.ssf/2015/01/book_details_ewing_residents_1909_journey_around_t.html#incart_river
The AAUW's mission is to advance equity for women and girls through advocacy, education, philanthropy and research, breaking through educational and economic barriers so that all women have a fair chance.
When Cid Richards, Vice President of Programs, contacted me she explained that each year the group invites a woman author from New Jersey as their guest presenter at their annual Book & Author Champagne Brunch. The goal of this occasion is to raise money for their scholarship fund. As this book was authored by an author from New Jersey, about a New Jersey-based automotive pioneer, she thought the event's attendees would appreciate this subject matter during Woman's History Month.
At this gathering that over-looked the beautiful grounds of Medford Leas, I addressed a roomful of women (and a few men) that were fascinated by the life and travel of Trenton's Harriet White Fisher and her intrepid band of traveling companions. Together, this team covered four continents during the course of thirteen months in a vehicle called a Locomobile.
During the event, I received several questions about Harriet's trip as well as inquiries about how I came to tell her story and about my writing process and impressions of the publishing industry. What a great opportunity to share, and hopefully inspire, others.
At the conclusion of the address, I had the pleasure of signing copies of Around the World in 1909 as well as copies of Dog's Best Friend and Something's Lost and Must be Found. As an added bonus, I learned that a donation had been made in my name to the Alice Paul Institute. The Alice Paul Institute educates the public about the life and work of Alice Stokes Paul (1885-1977), author of the Equal Rights Amendment, and offers heritage and girls' leadership development programs
I thank all of those of the AAUW involved in making the day so special including Elsie Behmer, Co-President, Treasurer Mary Ann Brookes, VP of Membership and Publicity coordinator June Ramondetta, Co-Vice President Literature Group Tricia Reace, AAUW NJ State Board Member Mary Switzer and of course, Cid Richards, Tri-Vice President of Programs; my point of contact throughout the planning process.
In turn, I will be contributing a percentage of book sales from this event to my "Be the Change" collection to benefit a local animal advocacy group.
Happy National Women's History Month, Happy Spring. Watch for exciting news about National Dog Week 2016 in a subsequent post. Visit and LIKE the NDW Page:https://www.facebook.com/National-Dog-Week-218596591491974/?fref=ts
"Between the attitude toward the dog of those far past centuries and the attitude of today is a vast journey in the direction of kindness and a heart of sympathy."    Will Judy, 1949
On Valentine's Day, my husband Rich and I headed into New York City for the Dog Writers Association of America's Awards banquet. Fittingly, my book, (a true labor of love),  Dog's Best Friend: Will Judy, Founder of National Dog Week, and Dog World Publisher, had received a Maxwell Medallion nomination in the Reference category. As Judy was highly influential in the establishment of the DWAA back in 1935, and Maxwell Riddle was his protégé, it was quite an honor. Alas, we did not bring home the Maxwell but some stellar connections were made and more books are in progress. One of them a collaboration with Laura Pople, founder of Seer Farms, will share the poignant stories of the people and pets of this special place.
Located in a rural area of New Jersey, Seer Farms was founded in 2009 by Laura and her board, to embrace the mission that our pets are truly family members and no circumstance should ever separate them from us. Seer Farms is a facility that will take in the family cat(s) or dog(s) (and occasional "other" creature) of those in need and care for them until the situation permits pets and people to reunite under one roof.  These pets come to her as the result of military deployments, domestic violence, natural disasters and from pet owners who are going through challenging times and need a hand in caring for their pets until more fortunate circumstances prevail. By offering this unique opportunity, many pets are saved from abandonment and uncertain fates.
I had the opportunity to meet Laura recently when Rich, and dog, Teddy, helped me deliver a collection of donated supplies. During our visit, we met a woman who was there to spend time with two of her dogs that are being cared for by the facility. Deb told us that she had lost her home in Hurricane Sandy, and like many others, still had not fully recovered from that life-changing event of three and a half years ago. Her home is in the process of being raised and when that is complete, she and her dogs will enjoy their special Reunion Day when they hop into her car and take that much-awaited ride home. Deb appreciates these visits but notes that at the end of each, her dogs try to lead her to the car so that they can go home with her. As someone who personally witnessed the devastation of that storm, I can attest to how important this oasis has been for so many.
I can't think of a happier event than the occasion of something like Reunion Day  – having your beloved pet once again by your side,  – having come through the worst of times, and now, ready to provide comfort and support to each other as their journey continues.
In her actions and her life's work, Laura and her staff and board, have made a major difference in the lives of animals, and the humans who love them. Their work and mission fully embrace what Will Judy wrote so many years ago, "Between the attitude toward the dog of those far past centuries and the attitude of today is a vast journey in the direction of kindness and a heart of sympathy."
I thank all those who contributed to our Seer Farms supply drive: Maureen Johnson and the Sayer and Schoberg Families, Bonnie Werkmeister, Boy Scout Pack 16 of Pt. Pleasant, NJ, Skittles (the Bichon) Barros and the members of the Junior Auxiliary Unit of American Legion Post 348 in Brick, NJ.
Recovery, Reunion, Renewal….that is the goal of Seer Farms. To read more about this unique sheltering model, its staff and volunteers:http://seerfarms.org/
Come join in the fun and hear me speak about writing for the pet-industry and beyond at the Blog Paws Conference in Phoenix, AZ June 23-25. https://www.pinterest.com/blogpaws/blogpaws-conference-photos/
"The public should be taught to demand a sound, healthy dog, bred and raised in sanitary environment…" Captain Wm. Lewis Judy, Founder of National Dog Week and Dog World Publisher
Far too often, people continue to support the puppy mill system with their purchases of dogs at retail outlets. To protect the buyer, and to put a stop to the secretive abhorrent practices of the puppy milling business, laws are created and passed, however, the enforcement of these laws  must occur to bring about positive change. We can end all this if we choose to adopt our pets, or to work with breeders who truly love and care about the dogs they bring into the world, even after the sale is complete. If you truly love all dogs, you understand.
Thank you Janice Patterson Fisher for this update found below and your work on behalf of our dogs.
As some of you know, a new consumer protection law became effective on June 1, 2015 enhancing the Puppy Lemon Law for all customers buying a puppy from a pet store in the state of New Jersey. This law is the Pet Store Disclosure Act that specifically requires pet stores to provide specific breeder information on each cage cards, including two years' worth of USDA inspection reports for the breeder/broker of any puppy offered for sale in a pet store. Cage cards must now include: breeder name, address, e-mail address, if available, USDA-license number. Most importantly, no New Jersey pet store may buy puppies from a breeder unless he possesses a USDA license and a state license, if a state license is required.
For many years, New Jersey pet stores refused to divulge breeder information to customers until the sale of a puppy was complete. The only logical reason for this is that they shuttered to think what a customer would feel should they know the truth…that these puppies are mass bred in commercial facilities known as puppy mills. According to the New Jersey Federation of Dog Clubs (a premium club consisting of over 80 breed-specific clubs), no responsible breeder would sell to a pet store. Therefore, New Jersey pet stores had but one source: puppy mills.
Even with this law in effect, the majority of New Jersey pet stores have not fully complied. Despite visits and warnings from the New Jersey Division of Consumer Affairs and assistance from New Jersey animal advocates, these stores appeared to hedge their bets that the state would not truly enforce the penalties. But they were wrong; in December, these stores received an early Christmas present in the "package" of Notices of Violation – Fines – from the state for failure to adhere to the law.
Some stores have complained that their errors were clerical. Not so. Each and every store was visited by state investigators. A copy of the law was provided. Time was provided to them to come into compliance.
The law is simple to read. Provide specific breeder information on the cage cards and conspicuously post USDA inspection reports on or near the cage. Not hard to follow. These stores obviously chose not to follow the law and continue to hide the fact that the puppies they sell come from despicable brokers and breeders.
Let's hope that these fines teach the puppy-milling industry a lesson….they are not above the law and all consumers have a right to know how a product is manufactured. In this case, and unfortunately, the product is a living being – a puppy and it is "manufactured" in the most inhumane way.
http://www.nj.gov/oag/newsreleases16/Pet-Shop-Violations-CHART-01042016.pdf
Happy New Year. 2015 ended with some amazing news surrounding Dog's Best Friend and my work on behalf of the National Dog Week Movement. I thank so many of you for your interest and support and wish you all a very rewarding and successful New Year!
Who Let the Dogs In? New Online Exhibit Captures the Legacy of Captain Will Judy and National Dog Week
 In collaboration with Amy Breyer, Executive Director of the Animal History Museum, I am pleased to announce that my online exhibit was successfully curated and went live on the museum's site in December.  This innovative exhibit, titled "Who Let the Dogs In?", chronicles the inspiring history of National Dog Week and its founder, Captain William Lewis Judy.
Americans have enjoyed a long-time love affair with animals – domesticated and wild. However, despite anecdotal evidence highlighting the important role that animals play in our lives, there has been little formal, institutional acknowledgement of their significance. To fill that void, the Animal History Museum seeks to explore, honor and advance our understanding of the complex and evolving nature of man's interactions with, and relationship to, the other species around us. The museum's mission: understanding and celebrating the human-animal bond.
Established online in January 2012, the Animal History Museum is being developed by a team of professionals who are passionate about all things animal, serving and educating all ages and segments of the general public. With the establishment of a physical site in Los Angeles County, California, the Animal History Museum will become the leading facility in the nation designed solely for the collection, preservation and exploration of the history, culture, science and law relating to the relationship between human and non-human animals.
The museum's website offers several other inspiring online exhibits as well, including: "The Wildlife Photography of Donald D. Feare", "Stories of Older Animal Adoption", "Sit, Stay, Say Cheese! The Early History of Animal Photography, 1850-1915", "Breaking Stereotypes: America's Pit Bull Rescues and the Human Animal Bond", and "I'm Ready for My Close-up Mr. Casteel: The Making of Underwater Dogs."
As the author of Will Judy: Founder of National Dog Week and Dog World Publisher (McFarland & Co.), I am honored to be part of an establishment dedicated to presenting exhibitions, lectures, and other activities that are consistent with, and supportive of, the museum's educational goals and purpose.
Captain Will Judy, as he was known, was a pioneer in the dog-care industry, and one of the founders of the DWAA. As a prolific writer, author and publisher of Dog World  Magazine for decades, Judy almost single-handedly shaped the way modern dogs are regarded in America. Most importantly, he was responsible for making sure the nation's dogs got their week, and still do, during the last full week of September each year with National Dog Week
I hope you enjoy "Who Let the Dogs In?" and will take a virtual tour of the Animal History Museum as well:  http://animalhistorymuseum.org