You are currently browsing the monthly archive for August 2017.
"Ted, White and Blue – Patriotic Paws"
Five years ago today, we said farewell to our beloved Portuguese Water Dog, Hooper. Named for the Matt Hooper character of  the blockbuster movie Jaws, she really did drive the boat, our house, our lives.
On a cold night in the winter of 2010, "Hoop Girl" was sitting by my feet at the moment I happened upon something called National Dog Week, a quirky yet poignant Canine American Holiday established in 1928. I fell in love with its colorful history, and began writing a biography about its Founder, Captain Will Judy, chronicling its unique, roller coaster-like legacy. In doing so, a new career was launched, and five books later, I've never stopped writing.
Alone with Hooper during the last moments of her life, I had an odd request. I whispered in her ear, "When the time is right, please send Dad and I a special new dog friend, and if possible please send one that likes other dogs and is calm, cool and collected."
It seemed like a strange way to say goodbye to a loyal and loving companion, but in true dog-like fashion, within five months, my heart-felt request was granted when we fostered a little black and white Havanese-mix named Teddy.
Teddy came to us like a bright light in a bleak post Hurricane Sandy landscape. He wasn't intended to stay, but stay he did, and has brought us much happiness. "Steady Teddy" couldn't be any more different than "Hyper Hooper". And unlike Hooper, Teddy adores other dogs. Now, with us for nearly four years, Teddy sits by my feet and inspires me to keep on writing, in fact, a story I wrote, based on his arrival in our lives, will be part of an Anthology released by the Revell Publishing group in October 2018. When the editor titles the book, I will let you know!
And another interesting thing happened with the Tedster by my side. I revamped my art studio and did something I'd wanted to do for a very long time, paint my first pet portrait. The painting of Teddy featured above, draped by the American flag, brings my creative life full circle, and reminds me why I continue to write about dogs and history, or anything else that inspires me. It also captures the spirit of National Dog Week that was established to encourage a collective and thoughtful period when we are mindful of all the ways dogs enrich our lives.
There are many exciting things going on in the Creative Front, and we're working hard and visualizing some good days ahead; creating during challenging circumstances when the sun is temporarily hidden by fleeting clouds; welcoming the positive influences and encouragement from a dog that's been sent to help makes it all worthwhile. That's the ultimate gift.
The 89th Observance of National Dog Week will be celebrated the week of September 25th this year!
In 2014 while attending a beverage industry trade show in New Jersey, I had the good fortune to meet Bert Butler "Tito" Beveridge II, the founder of Tito's Hand Made Vodka. Yes, Tito's real last name is Beveridge and while the comparison of his name to the word beverage might get tiresome for him at times, his genuine concern for animal welfare does not.
Dapper, professional and genuine, Beveridge struck me as someone who just might like dogs. I'd wanted to ask him if he did, but it was a busy event with many people to meet. I didn't get the chance. Later, while visiting the Tito's official website, I detected a distinct dog-loving presence that confirmed my suspicions.
The following year, while participating as a panelist at the BlogPaws Conference in Arizona, I'd discovered that Tito's Vodka for Dog People was one the sponsors for the event. BlogPaws is the world's largest organization for those who support animal welfare through blogging and the use of Social Media. The collaboration made sense.
Tito's Handmade Vodka was born in Austin, Texas. Commercial production began in 1997 when Beveridge formed Fifth Generation, Inc., establishing his Mockingbird Distillery. Tito's Vodka "went to the dogs" when in those early days the budding entrepreneur wished to help the stray dogs  wandering near his distillery. 
Today, that commitment to help homeless dogs has manifested as a marketing platform with a mission; Tito's Vodka for Dog People, a company established to help raise funds for animal welfare and non-profit organizations through the sale of Tito's, product donation, event support and branded merchandise. Presently, Tito's Vodka for Dog People collaborates with thousands of animal welfare non-profits groups world-wide, and partners with approximately 700 additional animal welfare groups on fundraising events each year.
According to Elizabeth Bellanti Pander, Program Manager, Vodka For Dog People this entity embraces the innate connection humans have with their dogs. As she explains, "Working with Tito Beveridge to bring his business dream to life for over 20 years, we've been committed to rescuing and protecting the dogs that have come into our lives through this process." With the continual support of dedicated dog-loving friends and a growing fan base, their goal to improve the lives of pets and their humans far and wide has been successfully met.
In their effort to support their work on behalf of dog welfare, Vodka for Dog People partnered with Emancipet, a nonprofit organization with a mission to offer low cost veterinary services and spay/neuter procedures in underserved communities. Through this partnership, Tito's Vodka for Dog People and Emancipet have helped to reduce the number of pets euthanized in Austin, Texas and elsewhere. Amy Mills, CEO of Emancipet, her staff, and volunteers truly understand that pets bring immeasurable joy to the lives of their humans and that all pets deserve high-quality affordable veterinary care. Emancipet also assists nonprofits in the areas of rescue, transport, therapy and guide dogs.
On the Vodka for Dog People's website one can choose from an array of products of dog-oriented merchandise including wearable items for humans, barware, dog swag and more. All profit from these sales go to aid Emancipet, a Texas-based nonprofit organization with a mission to offer high-quality spay/neuter procedures for area pet owners and affordable quality veterinary care.
In 1999, during their first year of operation, Emancipet provided 5,000 low-cost spay/neuter surgeries in the Austin area onboard a mobile clinic. In impoverished areas, Emancipet and the City of Austin partnered to offer "Free Days" for these procedures once a week. With the help of grants from PetSmart Charities and Impact Austin, Emancipet opened their first brick and mortar low-cost spay/neuter clinic, to serve pet owners inside and outside of Austin.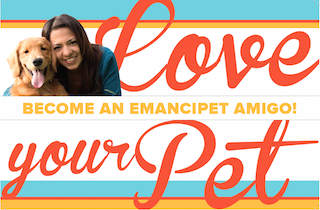 In 2009, celebrating ten years of successfully helping animals, they reached the milestone of offering 100,000 free and low-cost spay/neuter surgeries for pets in Central Texas. Within 2 years, Emancipet added a second mobile clinic expanding their service area to include the entire Central Texas region, spanning 7 counties.
The positive effect of their efforts is staggering. Since its inception, Emancipet has been responsible for the spay/neuter procedures for nearly 250,000 dogs and cats. By 2016 they'd offered veterinarian care for more than 100,000 pets in locations in Austin, Pflugerville, Killeen, and Houston, Texas and Philadelphia, Pennsylvania.
Through a national social change training program, Emancipet continues to address the growing need for services; working to end animal homelessness through three primary initiatives—new clinics, training, and advocacy. This year, Emancipet opened a new clinic in the Lawncrest neighborhood of North Philadelphia. This clinic staffed by a team of veterinarians and veterinary technicians who've been handpicked now offer spay/neuter and preventive services to a population in need of these services
In this new Philadelphia clinic, a caring veterinary technician assists pet owners to determine the pet's needs. Low-cost spay/neuter services are offered Tuesday, Thursday, and Saturday, with appointments required. walk-in preventive care provided by a staff veterinarian, such as vaccinations, microchipping, as well as flea and Heart Worm prevention are also offered at this location. Emancipet's training team also offers training and support services to help local animal welfare organizations, spay/neuter clinics and public and private shelters.
This training aims to boost spay/neuter efficiency and impact, develop leaders and staff, improve customer service, strengthen organizational infrastructure and advocate for strategies and public policy that improve the lives of pets in underserved communities. Emancipet educates organizations to achieve these results through dynamic and fun training experiences that include seminars held in Austin, and elsewhere, providing private personalized training for animal advocates and groups.
Vodka for Dog Lovers continues to be innovative in their unique efforts to promote dog welfare. In January 2017 they opened a bar in the Wells Fargo Center in Philadelphia, the venue for the Philadelphia Flyers and 76ers games with a theme that embraces their partnership with Emancipet. A portion of proceeds from cocktails will help to fund their national expansion in the Philadelphia market and beyond.
Here's to Tito Beveridge and his dedicated workers and partners who are enjoying amazing business success and paying it forward for the pets and people who need a helping hand, or paw, in Texas and beyond. May their business and philanthropic initiatives inspire many more to do the same.
To learn more about Tito's Vodka for Dog People please visit: http://www.titosvodka.com/dogs/
To learn more about the services and locations for Emancipet: https://emancipet.org/
Photo credits: Elizabeth Bellanti Pander