You are currently browsing the category archive for the 'Will Judy' category.

The Dog Days may have officially ended, but the "Dog Daze" loom – can you believe National Dog Week – seven days of pure canine celebration – will observe its 90th Observation the week of September 24th?
Yes Virginia, there really is a Dog Week and if it had its own Santa, it would be Captain Wm. Lewis Judy, best known as Will Judy, the individual often cited as The Man who Brought America to the Dogs.
As his biographer, I would be remiss if I didn't tell you that you could "read all about it" in a book I wrote titled Dog's Best Friend: Will Judy, Founder of National Dog Week and Dog World Publisher (McFarland & Co. – 2014). If your school, or community library, doesn't offer it, I hope that you'll request that they acquire a copy, or two. With over 1,000 footnotes (I'm still recovering) it offers an overview of Judy's publishing career told through his magazines, books and his never-ending promotion of his beloved National Dog Week launched in 1928.
To help keep the Week of the Dog a relevant part of American History, I launched a blog in 2010 (due to book writing my posts have been infrequent but I do hope to change that) and a Facebook Page to connect with dog-loving readers. Judy was also an art lover and promoted artists (as well as authors) whose work embraced that special dog-human bond. To that end, I created some art of my own that captures the enduring spirit of National Dog Week and all that it encompasses and Judy's undying patriotism.
Someone once referred to me as the "Wizard of Dog Week" and that made me laugh. I sometimes get messages addressed to "Dear Sir" – from those who think Will is still with us sitting behind an Internet Wall dispensing "wise" observations about the role of dogs in our lives. Even as early as the 1930s, Judy was aware that dog-centric topics could be wrought with contention and controversy, but he handled his detractors with dignity and humor. Like Judy, I'm both encouraged by news items and incidents that inspire the world in the Ways of Dog; alternately dismayed when I see how far we still have to go on the path of enlightenment. The latter was never lost on Captain Judy. But he never gave up the good fight – trained in the ministry in his youth, he retained a unique spirituality that permeated his writings and approach to the dog-human bond.
Dog Week is YOUR week. Throughout the month of September, leading up to its 90th appearance on the American calendar, I'll use its Community Facebook Page to offer excerpts from Dog's Best Friend (and some of my other books) as we honor Dog Week's rich and poignant history – a week that still calls for collective thoughtfulness and action on behalf of our beloved canines.
Please join us by "Liking" the official National Dog Week Community Page, https://tinyurl.com/y8o4mxzv share your love of all things dog, and become an active part of the observance's unique history. I hope my Writing Story and works inspire.  Thank you.
Last Wednesday, the Dog Writers Association of America (DWAA) announced the nominees of their Regular Categories for their Annual Writing Competition. The DWAA, formed in 1935, continues to support and reward writers, bloggers and authors who capture the essence of the human-canine bond on so many levels.
This year, for the first time ever, winners of Regular Categories, and those of the Special Awards category, will be announced before the DWAA Banquet in New York City held this year on the evening of February 10th. So, many of my fellow nominees, and DWAA members, will be excitedly watching on Wednesday, December 13th, at 7:00pm (EST) on the DWAA Facebook and Twitter sites as the results roll in!
Yes, I said fellow-nominees, because for the third year in a row, I was thrilled to discover that my writing had garnered notice. In 2015, my biography of DWAA Co-Founder, Will Judy, was nominated in the Reference Book category and last year I was honored with three nominations, taking home a Maxwell in the Short Fiction category and The North Shore Animal League America Award for my blog post on the topic of Spay and Neuter.
This year, I've been nominated in the Short Fiction category for my short story On the Scent of Life about the personal struggle of a Cadaver dog handler, and for a guest blog post titled Fostering Ginger. Special Awards are "super secret" with no nominations, just that "And the winner is" moment! No matter the outcome, I'm honored to be nominated among such talented colleagues and wish all nominees the best.
Also last Wednesday, just after these announcements were made, I tuned into a webinar to reunite with fellow students and instructors from the Middle Grade Mastery course I'd enjoyed this past spring. The MGM course is one of many classes offered by Mira Reisberg of the Children's Book Academy, and was co-taught by author Hillary Homzie. During the MGM course, I revised a Middle Grade novel with the personal input and one-on-one editorial guidance of Mira and enjoyed critique groups with fellow-writers from around the world, many who have remained in my Writing Universe.
During this hourlong gathering, those in attendance spoke about their journeys in securing agent representation and their submissions and subsequent review by editors. Mira and Hillary offered helpful insight to get us unstuck if we're in a rut and suggested ways we can improve our chances of making 2018 a success for our projects.
Hillary reminded us to be mindful of our time by restricting time spent watching TV (sorry binge watchers) or on Social Media. She rightfully pointed out that even by writing one or two paragraphs a day, we are heading toward completion be it a Picture Book or a 45,000 word MG Novel. I also liked her reminder that when we're unsure of where our character and plot are going, to stop and interview our characters to fully flush them out.
Mira encouraged us to mine our imaginations for all the possibilities and outcomes of a plot by asking the simple question, "So, what's your premise?" It's a deceivingly simple question, but one should be able to let an audience know the essence and purpose of your book in just a few sentences enticing readers to want to know more.
I've met many aspiring writers who feel that they don't need writing instruction because they think all you need to do is think up a story and sit down at the keyboard. That's a great start, but there's so much more to it. Even with a gripping, well-executed manuscript, it isn't easy to engage overworked literary agents and editors, or small presses and The Big Five publishers.
Part of the appeal of the MGM course, and others offered by the CBA, are that they include the involvement of some well-established agents and editors. Scholarships are also available and some students even receive a Golden Ticket from a participating agent, or editor, with an invaluable invitation to submit a Full Manuscript for serious consideration! The CBA courses use Facebook as their meeting base, so if you do take a course, be advised you'll need to set up an account to participate.
My MGM project has endured many revisions, title changes and winding paths, but with each turn, it becomes a stronger story and I'm hopeful that it will find the right home in the coming year, embracing the mantra that it will land on "the right desk, at the right time". While there is no course to find the exact moment of that winning combination, taking writing courses like those offered by CBA just might make that match a reality.
For the entire list of DWAA Writer's Competition Nominees:
https://dogwriters.org/2017-nominees/
For more information on the Children's Book Academy visit:
http://www.childrensbookacademy.com/
For a free webinar and Scholarship info: https://wj168-366180.pages.infusionsoft.net/
Work hard and practice Enlightened Persistence. To be continued!
Tomorrow on November 11, we honor those who have served militarily in all branches of service; even those who are considered man's best friend (and of course, a woman's, too).
In September, the American Legion Post of Brick Township, NJ, observed its Third Annual Yappy Hour on the Creek, co-sponsored by Tito's Vodka for Dog People. The folks at Tito's have made it their business mission to honor our dogs, and our veterans, so this was a meaningful collaboration on all fronts.
When we talk of Military Dogs, two images emerge – one of the militarily trained Dogs of War that physically serve in war-zones, and those dogs trained as Therapy and Service Dogs (There is a difference) that assist veterans when they return home; helping them with emotional and physical challenges; enabling them to be active socially and live independently.
To honor all of these deserving dogs, proceeds from our Yappy Hour were received by Ron Aiello of the United States War Dog Association and Brandon MacMillan, co-founder of the Argus Service Dog Foundation. This organization trains service dogs and pairs them with war veterans in need. Brandon is also the host of "Lucky Dog" a show where shelter dogs are transformed through his training and love before being placed in their hopefully forever homes.
Our Yappy Hour typically coincides with National Dog Week. That's fitting, because its founder, Captain Lewis Wm. Judy was a decorated Army veteran and served as Commander for his American Legion Post in Chicago. Long before our nation understood the value of military and service dogs, Judy was sharing his vision with a public that was increasingly "going to the dogs". Through his magazine, Dog World, and numerous books, Judy encouraged Americans to educate themselves about the value and potential of canines.
Often I see  veterans proudly displaying baseball caps that proclaim their militarily service. When my husband Rich, who served as a Navy Corpsman (the medics for the Marines) wears his, I know it makes him feel good when someone thanks him for his service, so now, when I see someone proudly wearing theirs, I go out of my way to thank them.  I also thank my Dad, Jack Begin, and honor the memories of his brothers, and other relatives, who served our nation.
I read recently, that so few even know someone who is serving, or has served, our nation militarily. Organizations like the American Legion and Veterans of Foreign War were established and exist to help spread awareness of sacrifices made by these dedicated men and women, and allow members to continue to serve their communities through fundraising efforts. Take a moment to learn about those organizations in your own neighborhoods, and to thank a few veterans as well.
Happy Birthday to the US Marine Corps!
     The 89th Observance of National Dog Week has come and gone, taking its place in American Dog History on the Timeline of the the Tailwagger. In 1928, a man named Capt. Wm. Lewis Judy founded National Dog Week with a mission not to necessarily bring more dogs into the world, but to make the world a better place for the ones already here.

 
     For the past several years, in honor of the occasion during the last week of each September, I've arranged a small event to honor this venerable national tradition. For the past three, I've helped to organize a Yappy Hour on the 'Cric on the grounds of our local American Legion Post in Brick Township, NJ.

 
     Long before the use of Military Dogs was embraced by the US Armed Forces, Capt. Judy saw their value as police dogs and dogs of war while serving in WWI. He also recognized their therapeutic value to soldiers returning home from the war front and encouraged their visits to Veteran Hospitals to help soothe frayed nerves and heal emotional and physical wounds.

 
     Yappy Hour on the 'Cric provides an opportunity for Post members and their dogs to enjoy a few hours of socializing and fun, while raising funds and awareness for Military Canines and their handlers. We thank Post 348 Commander Skip Amundson, Bar Chairman Rich Kruysman, Post Members who supported the event and our sponsor, Tito's Vodka for Dog People for making this event possible. Tito's Handmade Vodka has made it their business mission to raise funds and awareness for issues concerning man's best friend and veterans.
     We also thank our "Dog Week Dozen", Logan, Lily, Lilly, Teddy Labradoodle, Teddy Kruysman, Harley, Macy, Jeter, Skittles, Tabitha, Jet and Ollie for being such good dogs and enjoying the day so nicely with each other, and their humans, on the banks of the creek during the Week of the Dog.

 
     I'll let the photos bark for themselves – many canines were curious about those gift baskets!
     Welcome to the 89th Observance of a special time called National Dog Week. In searching for a quote to begin this post I opened my dog-eared copy of Will Judy's Don't Call a Man a Dog, 1949 (for it would be insulting to the dog) to let that quote find me! Please Note: Today, many dog-lovers don't like the term "dog owner" however, many years ago, the Timeline of the Tail Wagger was still evolving and that term was commonly used.

 
     The sentiment, no matter the wording, still stands stronger than ever.
"People own dogs for varied reasons. The reason is of small consequence; the important item is that the owners be worthy of their dogs. To your dog, you are a god. Do not do anything which destroys this delusion."
     Captain Judy was trained as a minister, became a decorated WWI Veteran, lawyer and one of America's most prolific writers. He published Dog World Magazine for several decades, influencing a new generation of dog-lovers and enthusiasts.
     Judy saw the value of artists and authors and was happy to include them in his magazine's issues and campaigns to promote National Dog Week an observance he launched in 1928 just before the nation was plunged into the Great Depression. But how could a dog get a week when most humans couldn't get one day?

 
     Captain Judy understood the power of the paw and prevailed and in that continuing spirit, n
ext September, National Dog Week will celebrate 90 years of honoring the American Dog. I'd love to see it celebrated in the spectacular fashion it once was on the grounds of Rockefeller Center and elsewhere.

  Suggestions on how to maket that happen are welcome.
     As one young man suggested the other day, it should be International. I'm happy to report that I often hear from people over the world sharing their stories and photos of their pups.
     This year, we've introduced a new logo. The image of a happy hound proudly posing against the backdrop of red, white, and blue is wishing on a star for so many reason. We hope you find it hopeful and inspiring at a time when something so "simple" as a dog's love can help so many get through difficult times.
     Please join us in celebration by LIKING the official National Dog Week Page and posting photos of your dogs (and other pets if they're feeling left out). If you're an artist, author, blogger, rescue pr foster group or do work that is relevant, etc. please share your Links and experiences as well. https://www.facebook.com/NatDogWeek/
     I'll leave you with one more quote from Captain Will Judy:

 
"Dogs are an antidote to the machine-shop-precision and the speeding machinery of our present day tempo of living. Their naturalness, their lack of affectation, their use of the simple reactions of living – always naive, fresh and warm-blooded, are a balance wheel to our whirring life."
     So come tomorrow, try to be the god your dog thinks you are (if only for a week)!
     Happy National Dog Week – Let's keep its spirit alive year-round – 52/12! 
     Learn more about the origin and traditions of National Dog Week:
"Ted, White and Blue – Patriotic Paws"
Five years ago today, we said farewell to our beloved Portuguese Water Dog, Hooper. Named for the Matt Hooper character of  the blockbuster movie Jaws, she really did drive the boat, our house, our lives.
On a cold night in the winter of 2010, "Hoop Girl" was sitting by my feet at the moment I happened upon something called National Dog Week, a quirky yet poignant Canine American Holiday established in 1928. I fell in love with its colorful history, and began writing a biography about its Founder, Captain Will Judy, chronicling its unique, roller coaster-like legacy. In doing so, a new career was launched, and five books later, I've never stopped writing.
Alone with Hooper during the last moments of her life, I had an odd request. I whispered in her ear, "When the time is right, please send Dad and I a special new dog friend, and if possible please send one that likes other dogs and is calm, cool and collected."
It seemed like a strange way to say goodbye to a loyal and loving companion, but in true dog-like fashion, within five months, my heart-felt request was granted when we fostered a little black and white Havanese-mix named Teddy.
Teddy came to us like a bright light in a bleak post Hurricane Sandy landscape. He wasn't intended to stay, but stay he did, and has brought us much happiness. "Steady Teddy" couldn't be any more different than "Hyper Hooper". And unlike Hooper, Teddy adores other dogs. Now, with us for nearly four years, Teddy sits by my feet and inspires me to keep on writing, in fact, a story I wrote, based on his arrival in our lives, will be part of an Anthology released by the Revell Publishing group in October 2018. When the editor titles the book, I will let you know!
And another interesting thing happened with the Tedster by my side. I revamped my art studio and did something I'd wanted to do for a very long time, paint my first pet portrait. The painting of Teddy featured above, draped by the American flag, brings my creative life full circle, and reminds me why I continue to write about dogs and history, or anything else that inspires me. It also captures the spirit of National Dog Week that was established to encourage a collective and thoughtful period when we are mindful of all the ways dogs enrich our lives.
There are many exciting things going on in the Creative Front, and we're working hard and visualizing some good days ahead; creating during challenging circumstances when the sun is temporarily hidden by fleeting clouds; welcoming the positive influences and encouragement from a dog that's been sent to help makes it all worthwhile. That's the ultimate gift.
The 89th Observance of National Dog Week will be celebrated the week of September 25th this year!
In 2014 while attending a beverage industry trade show in New Jersey, I had the good fortune to meet Bert Butler "Tito" Beveridge II, the founder of Tito's Hand Made Vodka. Yes, Tito's real last name is Beveridge and while the comparison of his name to the word beverage might get tiresome for him at times, his genuine concern for animal welfare does not.
Dapper, professional and genuine, Beveridge struck me as someone who just might like dogs. I'd wanted to ask him if he did, but it was a busy event with many people to meet. I didn't get the chance. Later, while visiting the Tito's official website, I detected a distinct dog-loving presence that confirmed my suspicions.
The following year, while participating as a panelist at the BlogPaws Conference in Arizona, I'd discovered that Tito's Vodka for Dog People was one the sponsors for the event. BlogPaws is the world's largest organization for those who support animal welfare through blogging and the use of Social Media. The collaboration made sense.
Tito's Handmade Vodka was born in Austin, Texas. Commercial production began in 1997 when Beveridge formed Fifth Generation, Inc., establishing his Mockingbird Distillery. Tito's Vodka "went to the dogs" when in those early days the budding entrepreneur wished to help the stray dogs  wandering near his distillery. 
Today, that commitment to help homeless dogs has manifested as a marketing platform with a mission; Tito's Vodka for Dog People, a company established to help raise funds for animal welfare and non-profit organizations through the sale of Tito's, product donation, event support and branded merchandise. Presently, Tito's Vodka for Dog People collaborates with thousands of animal welfare non-profits groups world-wide, and partners with approximately 700 additional animal welfare groups on fundraising events each year.
According to Elizabeth Bellanti Pander, Program Manager, Vodka For Dog People this entity embraces the innate connection humans have with their dogs. As she explains, "Working with Tito Beveridge to bring his business dream to life for over 20 years, we've been committed to rescuing and protecting the dogs that have come into our lives through this process." With the continual support of dedicated dog-loving friends and a growing fan base, their goal to improve the lives of pets and their humans far and wide has been successfully met.
In their effort to support their work on behalf of dog welfare, Vodka for Dog People partnered with Emancipet, a nonprofit organization with a mission to offer low cost veterinary services and spay/neuter procedures in underserved communities. Through this partnership, Tito's Vodka for Dog People and Emancipet have helped to reduce the number of pets euthanized in Austin, Texas and elsewhere. Amy Mills, CEO of Emancipet, her staff, and volunteers truly understand that pets bring immeasurable joy to the lives of their humans and that all pets deserve high-quality affordable veterinary care. Emancipet also assists nonprofits in the areas of rescue, transport, therapy and guide dogs.
On the Vodka for Dog People's website one can choose from an array of products of dog-oriented merchandise including wearable items for humans, barware, dog swag and more. All profit from these sales go to aid Emancipet, a Texas-based nonprofit organization with a mission to offer high-quality spay/neuter procedures for area pet owners and affordable quality veterinary care.
In 1999, during their first year of operation, Emancipet provided 5,000 low-cost spay/neuter surgeries in the Austin area onboard a mobile clinic. In impoverished areas, Emancipet and the City of Austin partnered to offer "Free Days" for these procedures once a week. With the help of grants from PetSmart Charities and Impact Austin, Emancipet opened their first brick and mortar low-cost spay/neuter clinic, to serve pet owners inside and outside of Austin.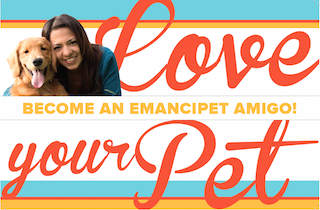 In 2009, celebrating ten years of successfully helping animals, they reached the milestone of offering 100,000 free and low-cost spay/neuter surgeries for pets in Central Texas. Within 2 years, Emancipet added a second mobile clinic expanding their service area to include the entire Central Texas region, spanning 7 counties.
The positive effect of their efforts is staggering. Since its inception, Emancipet has been responsible for the spay/neuter procedures for nearly 250,000 dogs and cats. By 2016 they'd offered veterinarian care for more than 100,000 pets in locations in Austin, Pflugerville, Killeen, and Houston, Texas and Philadelphia, Pennsylvania.
Through a national social change training program, Emancipet continues to address the growing need for services; working to end animal homelessness through three primary initiatives—new clinics, training, and advocacy. This year, Emancipet opened a new clinic in the Lawncrest neighborhood of North Philadelphia. This clinic staffed by a team of veterinarians and veterinary technicians who've been handpicked now offer spay/neuter and preventive services to a population in need of these services
In this new Philadelphia clinic, a caring veterinary technician assists pet owners to determine the pet's needs. Low-cost spay/neuter services are offered Tuesday, Thursday, and Saturday, with appointments required. walk-in preventive care provided by a staff veterinarian, such as vaccinations, microchipping, as well as flea and Heart Worm prevention are also offered at this location. Emancipet's training team also offers training and support services to help local animal welfare organizations, spay/neuter clinics and public and private shelters.
This training aims to boost spay/neuter efficiency and impact, develop leaders and staff, improve customer service, strengthen organizational infrastructure and advocate for strategies and public policy that improve the lives of pets in underserved communities. Emancipet educates organizations to achieve these results through dynamic and fun training experiences that include seminars held in Austin, and elsewhere, providing private personalized training for animal advocates and groups.
Vodka for Dog Lovers continues to be innovative in their unique efforts to promote dog welfare. In January 2017 they opened a bar in the Wells Fargo Center in Philadelphia, the venue for the Philadelphia Flyers and 76ers games with a theme that embraces their partnership with Emancipet. A portion of proceeds from cocktails will help to fund their national expansion in the Philadelphia market and beyond.
Here's to Tito Beveridge and his dedicated workers and partners who are enjoying amazing business success and paying it forward for the pets and people who need a helping hand, or paw, in Texas and beyond. May their business and philanthropic initiatives inspire many more to do the same.
To learn more about Tito's Vodka for Dog People please visit: http://www.titosvodka.com/dogs/
To learn more about the services and locations for Emancipet: https://emancipet.org/
Photo credits: Elizabeth Bellanti Pander
This post received the North Shore Animal League America Special Award given by the Dog Writer's Association of America on February 12, 2017 for excellence in the writing on the topic of Spay and Neuter Initiatives in the nation.
A colleague in the animal advocacy community once declared, "We can't rescue ourselves out of this mess," when discussing the seemingly never-ending problem of pet overpopulation. For many, Spay and Neuter initiatives are regarded as the most humane form of rescue and advocacy. If we can stem the tide of unwanted pets, we can offer better care for those animals that will inevitably find themselves unhomed despite our best efforts.
At the BlogPaws conference in Phoenix Arizona in June, this topic seemed to "find" me as I became aware of how groups in different parts of the nation addressed these issue. BlogPaws represents the largest community of pet-professionals, advocates and writers in the world, with the common goal to improve the lives of companion animals. We sometimes, forget, however, that different regions of the nation face unique challenges when advocating for our companion animals.
At BlogPaws, I met Krystyn Bleda, a life time animal advocate from New Mexico. Krystyn and her husband, Raymond Sandor, are the co-founders of Desert Paws, Inc. animal rescue. Residing in Cochiti Lake, a small leasehold town on the Pueblo de Cochiti Indian Reservation, the couple with a slew of volunteers provides hands-on rescue, caregiving and transportation for Spay and Neuter procedures and veterinary care for tribal members animals from the neighboring three Pueblos.
Krystyn explains, "Moving from New York in 2003, we launched Desert Paws Inc. when we realized that there was an urgent need to help homeless, unwanted and injured animals in this area. Animals were being abandon, wandering around looking for food, warmth, help, some were killed on the road by vehicles, dumped from moving cars, close to death, some old, blind and unwanted. We obtained medical care for each one and then each was placed in foster homes, trained and finally placed into forever homes."
Eventually, the Governor of the Cochiti tribe invited them to sit down and discuss possible solutions to address this situation. Krystyn and her husband developed a low/no cost Spay and Neuter program and worked with a local veterinarian, developing a solution on how to handle their appointments and emergencies. They were also able to attract several long term donors to help sponsor their Spay and Neuter program specializing in a tribal setting.
The challenges of animal advocacy in these rural, sovereign tribal communities  are unique and significant. Although, many individuals care deeply about their pets, due to lack of resources on and around tribal lands many cannot easily obtain basic veterinary care, including Spay and Neuter procedures. As one of the poorest states in the nation, with a general population that is not well informed about the benefits of Spay and Neuter and lack law in their enforcement of  inhumane chaining of dogs and backyard breeding,  the municipal shelters of New Mexico are burdend by overcrowding.
Previously, veterinary students had come to the area to perform Spay and Neuter procedures, however, it didn't work in many areas due to the lack of participation from locals. Many of the animals in the community are free-roaming, never even having been in a vehicle or a house making for surgery "round-up" efforts very difficult. In addition, tribal lands present unique challenges due to cultural beliefs stemming from agricultural lifestyles. People are not well- informed about common pet illnesses, treatment possibilities and yearly veterinary maintenance of a dogs or cats such as vaccines, heartworm, flea/tick prevention methods, and transmittable diseases.
In thinking outside the box, Desert Paws Inc. launched their current program, "Door2Door Spay/Neuter & Veterinary Care" about 3 years ago.  In this successful initiative, Desert Paws Inc. volunteers pick-up animals from homes and bring them to their vet's clinic where the Spay and Neuter procedure is safely performed. Raymond explains, however, "Our biggest challenge is transportation. Volunteers use their own cars to transport animals to our veterinary clinic that is over an hour away. Each Tuesday 3-5 animals arrive by 9:30 am and their stomachs must be empty. The following day, another 3-5 animals arrive and the animals brought in the day prior are returned safely to their families for monitoring and the process is repeated. Often, pets requiring other veterinarian treatments, such as for tick-born illnesses, bite wounds or surgeries for broken bones are brought in for medical attention, also."
Krystyn points out the significant impact of strong Spay and Neuter initiatives. "For every dog, or cat, that is spayed or neutered, the births of six to twenty unwanted puppies and kittens are prevented. Pueblo de Cochiti, has a population of 1,500 people. With about two to four dogs per household (many of them are female) you can figure there are many dozens of reproducing moms at any given time that can typically produce a litter of 6-12 annually. That's hundreds of pups born each year! Allowing for the fact that many of their offspring will not make it to adulthood, the area could still see a very substantial population spurt each year without a spay and neuter program in place. The cycle just repeats itself, growing and growing without intervention."
Raymond notes that Cochiti Pueblo is one of the smaller pueblos, and now the goal of Desert Paws Inc. is to help the larger neighboring pueblos of Santo Domingo and San Felipe, and later on possibly expand the programs into the Navajo Reservation farther west and north.
Krystyn stresses that she and her husband could not accomplish all of this alone, saying, "Thanks to the relentless efforts of our board member and volunteer coordinator, Margaret Evans, we now have the best volunteer crew!" In order to grow and accomplish more, however, they are looking for more funding and sponsorship for the rescue and a reliable, newer vehicle for transport is needed immediately. In the very near future, Desert Paws Inc. also hopes to raise funds to purchase a building, which they will convert into a surgery/veterinary clinic and hold/recovery facility in a more closer, central location.
It is clear that Desert Paws Inc. and the Cochiti Pueblo's government came together at the right time to prevent the cycle of pet over-population in their native land. Through community collaboration, the dog and cat populations have lessened and its animal (and human) members are much happier and becoming healthier. These ground-breaking efforts have created a model that can be and need to be replicated elsewhere whether on sovereign tribal lands or on any rural areas in America. Small rescues can and need to play a huge part of these efforts and state governments need to offer a helping hand (and financial sponsorship) for such rescue organizations and their programs.
Krystyn is also aware of the power of the written word. She credits the blogging community for helping  to spread the news about Desert Paws Inc. and their success. With conferences like the one recently organized by BlogPaws, Krystyn and her husband have faith that those who attended can use their blogging and writing expertise and influence to help increase awareness, share ideas and assist with the nation-wide implementation of programs like those started and offered by Desert Paws Inc. To learn more about Desert Paws Inc. or to sponsor their efforts/programs please visit their website at www.desertpawsnm.org or email them at desertpawsnm@live.com
https://www.youtube.com/watch?v=48n7i-R-wYs&feature=youtu.be
It's been a hot summer here on the East Coast. But nothing beats the heat of Chandler, AZ, the place to which I travelled for the Blog Paws conference in June. BlogPaws is the world's only organization comprised of pet bloggers and authors. Although it was extremely hot outside, I heard so many cool speakers inside it was well-balanced! A shout out for the top-rate facility and gracious staff of the Sheraton Wild Horse Pass Resort.
For me, it was a whirlwind experience; I attended many workshops and events and also got to participate in a Speaking panel and lead a lunch-table discussion. I was inspired by many and hope I was able to do so for others.
Here it is now, the end of August and I spend my time working with my hardworking agent, Donna Eastman of the Parkeast Literary agency. We've got some interesting projects circulating and working as a team, we hope that the right editor will reward us and lend their expertise and experience to bring these books to fruition (that's fancy-talk for grant us a book contract(s)). Who knows what fall will bring. I thank all of you who continue to be so supportive and encouraging.
There's also  my work on behalf of National Dog Week and my promotion of Dog's Best Friend: Will Judy, Founder of National Dog Week and Dog World Publisher (McFarland& Co., 2014) – the only account of Judy's life and work ever written. It is filled with and interesting account of one man's influence on America's love-affair with its canines achieved through Judy's prolific publishing, writing and editing efforts over the course of five decades.
This year, we declare that National Dog Week begins on Sunday, September 18th. But, if you wish to begin on Monday, or keep on celebrating the following week…no one will fault you! This year's theme? "Readers Unleashed: Promoting Literacy with K9s" where dog-lovers utilize the power of the paw to encourage literacy and strengthen the dog-human bond. Does your library welcome Therapy Dogs, or does your shelter allow young people to read to the dogs?
I will also be guest blogging for the dog-loving folks at Tito's Vodka for Dog People during National Dog Week. This all-American company founded by "Tito" Beveridge  fifteen years ago is sharing its growth and success to benefit canine well-fare across the nation.
I am currently  preparing for the Seaside Park Art Show held on September 3rd in Ocean County, New Jersey, combining my "dog writing" and art as presented in the work below. I hope you enjoy this scene that captures the magic of a fleeting season. Happy "Dog-ust".