You are currently browsing the tag archive for the 'Tito's Vodka for Dog People' tag.
Tomorrow on November 11, we honor those who have served militarily in all branches of service; even those who are considered man's best friend (and of course, a woman's, too).
In September, the American Legion Post of Brick Township, NJ, observed its Third Annual Yappy Hour on the Creek, co-sponsored by Tito's Vodka for Dog People. The folks at Tito's have made it their business mission to honor our dogs, and our veterans, so this was a meaningful collaboration on all fronts.
When we talk of Military Dogs, two images emerge – one of the militarily trained Dogs of War that physically serve in war-zones, and those dogs trained as Therapy and Service Dogs (There is a difference) that assist veterans when they return home; helping them with emotional and physical challenges; enabling them to be active socially and live independently.
To honor all of these deserving dogs, proceeds from our Yappy Hour were received by Ron Aiello of the United States War Dog Association and Brandon MacMillan, co-founder of the Argus Service Dog Foundation. This organization trains service dogs and pairs them with war veterans in need. Brandon is also the host of "Lucky Dog" a show where shelter dogs are transformed through his training and love before being placed in their hopefully forever homes.
Our Yappy Hour typically coincides with National Dog Week. That's fitting, because its founder, Captain Lewis Wm. Judy was a decorated Army veteran and served as Commander for his American Legion Post in Chicago. Long before our nation understood the value of military and service dogs, Judy was sharing his vision with a public that was increasingly "going to the dogs". Through his magazine, Dog World, and numerous books, Judy encouraged Americans to educate themselves about the value and potential of canines.
Often I see  veterans proudly displaying baseball caps that proclaim their militarily service. When my husband Rich, who served as a Navy Corpsman (the medics for the Marines) wears his, I know it makes him feel good when someone thanks him for his service, so now, when I see someone proudly wearing theirs, I go out of my way to thank them.  I also thank my Dad, Jack Begin, and honor the memories of his brothers, and other relatives, who served our nation.
I read recently, that so few even know someone who is serving, or has served, our nation militarily. Organizations like the American Legion and Veterans of Foreign War were established and exist to help spread awareness of sacrifices made by these dedicated men and women, and allow members to continue to serve their communities through fundraising efforts. Take a moment to learn about those organizations in your own neighborhoods, and to thank a few veterans as well.
Happy Birthday to the US Marine Corps!
     The 89th Observance of National Dog Week has come and gone, taking its place in American Dog History on the Timeline of the the Tailwagger. In 1928, a man named Capt. Wm. Lewis Judy founded National Dog Week with a mission not to necessarily bring more dogs into the world, but to make the world a better place for the ones already here.

 
     For the past several years, in honor of the occasion during the last week of each September, I've arranged a small event to honor this venerable national tradition. For the past three, I've helped to organize a Yappy Hour on the 'Cric on the grounds of our local American Legion Post in Brick Township, NJ.

 
     Long before the use of Military Dogs was embraced by the US Armed Forces, Capt. Judy saw their value as police dogs and dogs of war while serving in WWI. He also recognized their therapeutic value to soldiers returning home from the war front and encouraged their visits to Veteran Hospitals to help soothe frayed nerves and heal emotional and physical wounds.

 
     Yappy Hour on the 'Cric provides an opportunity for Post members and their dogs to enjoy a few hours of socializing and fun, while raising funds and awareness for Military Canines and their handlers. We thank Post 348 Commander Skip Amundson, Bar Chairman Rich Kruysman, Post Members who supported the event and our sponsor, Tito's Vodka for Dog People for making this event possible. Tito's Handmade Vodka has made it their business mission to raise funds and awareness for issues concerning man's best friend and veterans.
     We also thank our "Dog Week Dozen", Logan, Lily, Lilly, Teddy Labradoodle, Teddy Kruysman, Harley, Macy, Jeter, Skittles, Tabitha, Jet and Ollie for being such good dogs and enjoying the day so nicely with each other, and their humans, on the banks of the creek during the Week of the Dog.

 
     I'll let the photos bark for themselves – many canines were curious about those gift baskets!
In 2014 while attending a beverage industry trade show in New Jersey, I had the good fortune to meet Bert Butler "Tito" Beveridge II, the founder of Tito's Hand Made Vodka. Yes, Tito's real last name is Beveridge and while the comparison of his name to the word beverage might get tiresome for him at times, his genuine concern for animal welfare does not.
Dapper, professional and genuine, Beveridge struck me as someone who just might like dogs. I'd wanted to ask him if he did, but it was a busy event with many people to meet. I didn't get the chance. Later, while visiting the Tito's official website, I detected a distinct dog-loving presence that confirmed my suspicions.
The following year, while participating as a panelist at the BlogPaws Conference in Arizona, I'd discovered that Tito's Vodka for Dog People was one the sponsors for the event. BlogPaws is the world's largest organization for those who support animal welfare through blogging and the use of Social Media. The collaboration made sense.
Tito's Handmade Vodka was born in Austin, Texas. Commercial production began in 1997 when Beveridge formed Fifth Generation, Inc., establishing his Mockingbird Distillery. Tito's Vodka "went to the dogs" when in those early days the budding entrepreneur wished to help the stray dogs  wandering near his distillery. 
Today, that commitment to help homeless dogs has manifested as a marketing platform with a mission; Tito's Vodka for Dog People, a company established to help raise funds for animal welfare and non-profit organizations through the sale of Tito's, product donation, event support and branded merchandise. Presently, Tito's Vodka for Dog People collaborates with thousands of animal welfare non-profits groups world-wide, and partners with approximately 700 additional animal welfare groups on fundraising events each year.
According to Elizabeth Bellanti Pander, Program Manager, Vodka For Dog People this entity embraces the innate connection humans have with their dogs. As she explains, "Working with Tito Beveridge to bring his business dream to life for over 20 years, we've been committed to rescuing and protecting the dogs that have come into our lives through this process." With the continual support of dedicated dog-loving friends and a growing fan base, their goal to improve the lives of pets and their humans far and wide has been successfully met.
In their effort to support their work on behalf of dog welfare, Vodka for Dog People partnered with Emancipet, a nonprofit organization with a mission to offer low cost veterinary services and spay/neuter procedures in underserved communities. Through this partnership, Tito's Vodka for Dog People and Emancipet have helped to reduce the number of pets euthanized in Austin, Texas and elsewhere. Amy Mills, CEO of Emancipet, her staff, and volunteers truly understand that pets bring immeasurable joy to the lives of their humans and that all pets deserve high-quality affordable veterinary care. Emancipet also assists nonprofits in the areas of rescue, transport, therapy and guide dogs.
On the Vodka for Dog People's website one can choose from an array of products of dog-oriented merchandise including wearable items for humans, barware, dog swag and more. All profit from these sales go to aid Emancipet, a Texas-based nonprofit organization with a mission to offer high-quality spay/neuter procedures for area pet owners and affordable quality veterinary care.
In 1999, during their first year of operation, Emancipet provided 5,000 low-cost spay/neuter surgeries in the Austin area onboard a mobile clinic. In impoverished areas, Emancipet and the City of Austin partnered to offer "Free Days" for these procedures once a week. With the help of grants from PetSmart Charities and Impact Austin, Emancipet opened their first brick and mortar low-cost spay/neuter clinic, to serve pet owners inside and outside of Austin.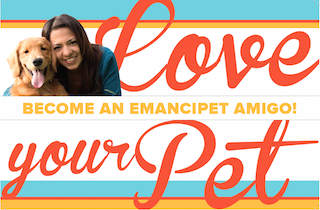 In 2009, celebrating ten years of successfully helping animals, they reached the milestone of offering 100,000 free and low-cost spay/neuter surgeries for pets in Central Texas. Within 2 years, Emancipet added a second mobile clinic expanding their service area to include the entire Central Texas region, spanning 7 counties.
The positive effect of their efforts is staggering. Since its inception, Emancipet has been responsible for the spay/neuter procedures for nearly 250,000 dogs and cats. By 2016 they'd offered veterinarian care for more than 100,000 pets in locations in Austin, Pflugerville, Killeen, and Houston, Texas and Philadelphia, Pennsylvania.
Through a national social change training program, Emancipet continues to address the growing need for services; working to end animal homelessness through three primary initiatives—new clinics, training, and advocacy. This year, Emancipet opened a new clinic in the Lawncrest neighborhood of North Philadelphia. This clinic staffed by a team of veterinarians and veterinary technicians who've been handpicked now offer spay/neuter and preventive services to a population in need of these services
In this new Philadelphia clinic, a caring veterinary technician assists pet owners to determine the pet's needs. Low-cost spay/neuter services are offered Tuesday, Thursday, and Saturday, with appointments required. walk-in preventive care provided by a staff veterinarian, such as vaccinations, microchipping, as well as flea and Heart Worm prevention are also offered at this location. Emancipet's training team also offers training and support services to help local animal welfare organizations, spay/neuter clinics and public and private shelters.
This training aims to boost spay/neuter efficiency and impact, develop leaders and staff, improve customer service, strengthen organizational infrastructure and advocate for strategies and public policy that improve the lives of pets in underserved communities. Emancipet educates organizations to achieve these results through dynamic and fun training experiences that include seminars held in Austin, and elsewhere, providing private personalized training for animal advocates and groups.
Vodka for Dog Lovers continues to be innovative in their unique efforts to promote dog welfare. In January 2017 they opened a bar in the Wells Fargo Center in Philadelphia, the venue for the Philadelphia Flyers and 76ers games with a theme that embraces their partnership with Emancipet. A portion of proceeds from cocktails will help to fund their national expansion in the Philadelphia market and beyond.
Here's to Tito Beveridge and his dedicated workers and partners who are enjoying amazing business success and paying it forward for the pets and people who need a helping hand, or paw, in Texas and beyond. May their business and philanthropic initiatives inspire many more to do the same.
To learn more about Tito's Vodka for Dog People please visit: http://www.titosvodka.com/dogs/
To learn more about the services and locations for Emancipet: https://emancipet.org/
Photo credits: Elizabeth Bellanti Pander
It's been a hot summer here on the East Coast. But nothing beats the heat of Chandler, AZ, the place to which I travelled for the Blog Paws conference in June. BlogPaws is the world's only organization comprised of pet bloggers and authors. Although it was extremely hot outside, I heard so many cool speakers inside it was well-balanced! A shout out for the top-rate facility and gracious staff of the Sheraton Wild Horse Pass Resort.
For me, it was a whirlwind experience; I attended many workshops and events and also got to participate in a Speaking panel and lead a lunch-table discussion. I was inspired by many and hope I was able to do so for others.
Here it is now, the end of August and I spend my time working with my hardworking agent, Donna Eastman of the Parkeast Literary agency. We've got some interesting projects circulating and working as a team, we hope that the right editor will reward us and lend their expertise and experience to bring these books to fruition (that's fancy-talk for grant us a book contract(s)). Who knows what fall will bring. I thank all of you who continue to be so supportive and encouraging.
There's also  my work on behalf of National Dog Week and my promotion of Dog's Best Friend: Will Judy, Founder of National Dog Week and Dog World Publisher (McFarland& Co., 2014) – the only account of Judy's life and work ever written. It is filled with and interesting account of one man's influence on America's love-affair with its canines achieved through Judy's prolific publishing, writing and editing efforts over the course of five decades.
This year, we declare that National Dog Week begins on Sunday, September 18th. But, if you wish to begin on Monday, or keep on celebrating the following week…no one will fault you! This year's theme? "Readers Unleashed: Promoting Literacy with K9s" where dog-lovers utilize the power of the paw to encourage literacy and strengthen the dog-human bond. Does your library welcome Therapy Dogs, or does your shelter allow young people to read to the dogs?
I will also be guest blogging for the dog-loving folks at Tito's Vodka for Dog People during National Dog Week. This all-American company founded by "Tito" Beveridge  fifteen years ago is sharing its growth and success to benefit canine well-fare across the nation.
I am currently  preparing for the Seaside Park Art Show held on September 3rd in Ocean County, New Jersey, combining my "dog writing" and art as presented in the work below. I hope you enjoy this scene that captures the magic of a fleeting season. Happy "Dog-ust".