You are currently browsing the tag archive for the 'Spay and Neuter' tag.
In 2014 while attending a beverage industry trade show in New Jersey, I had the good fortune to meet Bert Butler "Tito" Beveridge II, the founder of Tito's Hand Made Vodka. Yes, Tito's real last name is Beveridge and while the comparison of his name to the word beverage might get tiresome for him at times, his genuine concern for animal welfare does not.
Dapper, professional and genuine, Beveridge struck me as someone who just might like dogs. I'd wanted to ask him if he did, but it was a busy event with many people to meet. I didn't get the chance. Later, while visiting the Tito's official website, I detected a distinct dog-loving presence that confirmed my suspicions.
The following year, while participating as a panelist at the BlogPaws Conference in Arizona, I'd discovered that Tito's Vodka for Dog People was one the sponsors for the event. BlogPaws is the world's largest organization for those who support animal welfare through blogging and the use of Social Media. The collaboration made sense.
Tito's Handmade Vodka was born in Austin, Texas. Commercial production began in 1997 when Beveridge formed Fifth Generation, Inc., establishing his Mockingbird Distillery. Tito's Vodka "went to the dogs" when in those early days the budding entrepreneur wished to help the stray dogs  wandering near his distillery. 
Today, that commitment to help homeless dogs has manifested as a marketing platform with a mission; Tito's Vodka for Dog People, a company established to help raise funds for animal welfare and non-profit organizations through the sale of Tito's, product donation, event support and branded merchandise. Presently, Tito's Vodka for Dog People collaborates with thousands of animal welfare non-profits groups world-wide, and partners with approximately 700 additional animal welfare groups on fundraising events each year.
According to Elizabeth Bellanti Pander, Program Manager, Vodka For Dog People this entity embraces the innate connection humans have with their dogs. As she explains, "Working with Tito Beveridge to bring his business dream to life for over 20 years, we've been committed to rescuing and protecting the dogs that have come into our lives through this process." With the continual support of dedicated dog-loving friends and a growing fan base, their goal to improve the lives of pets and their humans far and wide has been successfully met.
In their effort to support their work on behalf of dog welfare, Vodka for Dog People partnered with Emancipet, a nonprofit organization with a mission to offer low cost veterinary services and spay/neuter procedures in underserved communities. Through this partnership, Tito's Vodka for Dog People and Emancipet have helped to reduce the number of pets euthanized in Austin, Texas and elsewhere. Amy Mills, CEO of Emancipet, her staff, and volunteers truly understand that pets bring immeasurable joy to the lives of their humans and that all pets deserve high-quality affordable veterinary care. Emancipet also assists nonprofits in the areas of rescue, transport, therapy and guide dogs.
On the Vodka for Dog People's website one can choose from an array of products of dog-oriented merchandise including wearable items for humans, barware, dog swag and more. All profit from these sales go to aid Emancipet, a Texas-based nonprofit organization with a mission to offer high-quality spay/neuter procedures for area pet owners and affordable quality veterinary care.
In 1999, during their first year of operation, Emancipet provided 5,000 low-cost spay/neuter surgeries in the Austin area onboard a mobile clinic. In impoverished areas, Emancipet and the City of Austin partnered to offer "Free Days" for these procedures once a week. With the help of grants from PetSmart Charities and Impact Austin, Emancipet opened their first brick and mortar low-cost spay/neuter clinic, to serve pet owners inside and outside of Austin.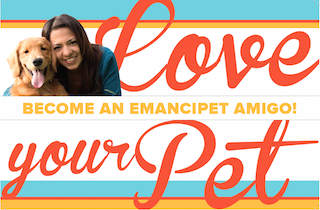 In 2009, celebrating ten years of successfully helping animals, they reached the milestone of offering 100,000 free and low-cost spay/neuter surgeries for pets in Central Texas. Within 2 years, Emancipet added a second mobile clinic expanding their service area to include the entire Central Texas region, spanning 7 counties.
The positive effect of their efforts is staggering. Since its inception, Emancipet has been responsible for the spay/neuter procedures for nearly 250,000 dogs and cats. By 2016 they'd offered veterinarian care for more than 100,000 pets in locations in Austin, Pflugerville, Killeen, and Houston, Texas and Philadelphia, Pennsylvania.
Through a national social change training program, Emancipet continues to address the growing need for services; working to end animal homelessness through three primary initiatives—new clinics, training, and advocacy. This year, Emancipet opened a new clinic in the Lawncrest neighborhood of North Philadelphia. This clinic staffed by a team of veterinarians and veterinary technicians who've been handpicked now offer spay/neuter and preventive services to a population in need of these services
In this new Philadelphia clinic, a caring veterinary technician assists pet owners to determine the pet's needs. Low-cost spay/neuter services are offered Tuesday, Thursday, and Saturday, with appointments required. walk-in preventive care provided by a staff veterinarian, such as vaccinations, microchipping, as well as flea and Heart Worm prevention are also offered at this location. Emancipet's training team also offers training and support services to help local animal welfare organizations, spay/neuter clinics and public and private shelters.
This training aims to boost spay/neuter efficiency and impact, develop leaders and staff, improve customer service, strengthen organizational infrastructure and advocate for strategies and public policy that improve the lives of pets in underserved communities. Emancipet educates organizations to achieve these results through dynamic and fun training experiences that include seminars held in Austin, and elsewhere, providing private personalized training for animal advocates and groups.
Vodka for Dog Lovers continues to be innovative in their unique efforts to promote dog welfare. In January 2017 they opened a bar in the Wells Fargo Center in Philadelphia, the venue for the Philadelphia Flyers and 76ers games with a theme that embraces their partnership with Emancipet. A portion of proceeds from cocktails will help to fund their national expansion in the Philadelphia market and beyond.
Here's to Tito Beveridge and his dedicated workers and partners who are enjoying amazing business success and paying it forward for the pets and people who need a helping hand, or paw, in Texas and beyond. May their business and philanthropic initiatives inspire many more to do the same.
To learn more about Tito's Vodka for Dog People please visit: http://www.titosvodka.com/dogs/
To learn more about the services and locations for Emancipet: https://emancipet.org/
Photo credits: Elizabeth Bellanti Pander
This post received the North Shore Animal League America Special Award given by the Dog Writer's Association of America on February 12, 2017 for excellence in the writing on the topic of Spay and Neuter Initiatives in the nation.
A colleague in the animal advocacy community once declared, "We can't rescue ourselves out of this mess," when discussing the seemingly never-ending problem of pet overpopulation. For many, Spay and Neuter initiatives are regarded as the most humane form of rescue and advocacy. If we can stem the tide of unwanted pets, we can offer better care for those animals that will inevitably find themselves unhomed despite our best efforts.
At the BlogPaws conference in Phoenix Arizona in June, this topic seemed to "find" me as I became aware of how groups in different parts of the nation addressed these issue. BlogPaws represents the largest community of pet-professionals, advocates and writers in the world, with the common goal to improve the lives of companion animals. We sometimes, forget, however, that different regions of the nation face unique challenges when advocating for our companion animals.
At BlogPaws, I met Krystyn Bleda, a life time animal advocate from New Mexico. Krystyn and her husband, Raymond Sandor, are the co-founders of Desert Paws, Inc. animal rescue. Residing in Cochiti Lake, a small leasehold town on the Pueblo de Cochiti Indian Reservation, the couple with a slew of volunteers provides hands-on rescue, caregiving and transportation for Spay and Neuter procedures and veterinary care for tribal members animals from the neighboring three Pueblos.
Krystyn explains, "Moving from New York in 2003, we launched Desert Paws Inc. when we realized that there was an urgent need to help homeless, unwanted and injured animals in this area. Animals were being abandon, wandering around looking for food, warmth, help, some were killed on the road by vehicles, dumped from moving cars, close to death, some old, blind and unwanted. We obtained medical care for each one and then each was placed in foster homes, trained and finally placed into forever homes."
Eventually, the Governor of the Cochiti tribe invited them to sit down and discuss possible solutions to address this situation. Krystyn and her husband developed a low/no cost Spay and Neuter program and worked with a local veterinarian, developing a solution on how to handle their appointments and emergencies. They were also able to attract several long term donors to help sponsor their Spay and Neuter program specializing in a tribal setting.
The challenges of animal advocacy in these rural, sovereign tribal communities  are unique and significant. Although, many individuals care deeply about their pets, due to lack of resources on and around tribal lands many cannot easily obtain basic veterinary care, including Spay and Neuter procedures. As one of the poorest states in the nation, with a general population that is not well informed about the benefits of Spay and Neuter and lack law in their enforcement of  inhumane chaining of dogs and backyard breeding,  the municipal shelters of New Mexico are burdend by overcrowding.
Previously, veterinary students had come to the area to perform Spay and Neuter procedures, however, it didn't work in many areas due to the lack of participation from locals. Many of the animals in the community are free-roaming, never even having been in a vehicle or a house making for surgery "round-up" efforts very difficult. In addition, tribal lands present unique challenges due to cultural beliefs stemming from agricultural lifestyles. People are not well- informed about common pet illnesses, treatment possibilities and yearly veterinary maintenance of a dogs or cats such as vaccines, heartworm, flea/tick prevention methods, and transmittable diseases.
In thinking outside the box, Desert Paws Inc. launched their current program, "Door2Door Spay/Neuter & Veterinary Care" about 3 years ago.  In this successful initiative, Desert Paws Inc. volunteers pick-up animals from homes and bring them to their vet's clinic where the Spay and Neuter procedure is safely performed. Raymond explains, however, "Our biggest challenge is transportation. Volunteers use their own cars to transport animals to our veterinary clinic that is over an hour away. Each Tuesday 3-5 animals arrive by 9:30 am and their stomachs must be empty. The following day, another 3-5 animals arrive and the animals brought in the day prior are returned safely to their families for monitoring and the process is repeated. Often, pets requiring other veterinarian treatments, such as for tick-born illnesses, bite wounds or surgeries for broken bones are brought in for medical attention, also."
Krystyn points out the significant impact of strong Spay and Neuter initiatives. "For every dog, or cat, that is spayed or neutered, the births of six to twenty unwanted puppies and kittens are prevented. Pueblo de Cochiti, has a population of 1,500 people. With about two to four dogs per household (many of them are female) you can figure there are many dozens of reproducing moms at any given time that can typically produce a litter of 6-12 annually. That's hundreds of pups born each year! Allowing for the fact that many of their offspring will not make it to adulthood, the area could still see a very substantial population spurt each year without a spay and neuter program in place. The cycle just repeats itself, growing and growing without intervention."
Raymond notes that Cochiti Pueblo is one of the smaller pueblos, and now the goal of Desert Paws Inc. is to help the larger neighboring pueblos of Santo Domingo and San Felipe, and later on possibly expand the programs into the Navajo Reservation farther west and north.
Krystyn stresses that she and her husband could not accomplish all of this alone, saying, "Thanks to the relentless efforts of our board member and volunteer coordinator, Margaret Evans, we now have the best volunteer crew!" In order to grow and accomplish more, however, they are looking for more funding and sponsorship for the rescue and a reliable, newer vehicle for transport is needed immediately. In the very near future, Desert Paws Inc. also hopes to raise funds to purchase a building, which they will convert into a surgery/veterinary clinic and hold/recovery facility in a more closer, central location.
It is clear that Desert Paws Inc. and the Cochiti Pueblo's government came together at the right time to prevent the cycle of pet over-population in their native land. Through community collaboration, the dog and cat populations have lessened and its animal (and human) members are much happier and becoming healthier. These ground-breaking efforts have created a model that can be and need to be replicated elsewhere whether on sovereign tribal lands or on any rural areas in America. Small rescues can and need to play a huge part of these efforts and state governments need to offer a helping hand (and financial sponsorship) for such rescue organizations and their programs.
Krystyn is also aware of the power of the written word. She credits the blogging community for helping  to spread the news about Desert Paws Inc. and their success. With conferences like the one recently organized by BlogPaws, Krystyn and her husband have faith that those who attended can use their blogging and writing expertise and influence to help increase awareness, share ideas and assist with the nation-wide implementation of programs like those started and offered by Desert Paws Inc. To learn more about Desert Paws Inc. or to sponsor their efforts/programs please visit their website at www.desertpawsnm.org or email them at desertpawsnm@live.com
https://www.youtube.com/watch?v=48n7i-R-wYs&feature=youtu.be
Thanks for stopping by. To learn about my biography of Will Judy, The Founder of National Dog Week and other writing projects please see ABOUT.  I will be speaking at Booktowne on Friday, Feb. 3 at 5:30 in Manasquan, NJ.  Topics will include SOMETHING'S LOST AND MUST BE FOUND and my work on the biography of Will Judy, the man who founded National Dog Week.
A couple of weeks ago, on the occasion of my birthday, I wondered what I could do to make the day really count.  As it was a Saturday morning, it occurred to me that it was a perfect opportunity to ask people in my Facebook Network to support a cause I felt strongly about.
I quickly set up a weekend-long event on Facebook and asked my friends to contribute just one dollar to an existing Chip In account set up by Project Pets – Spay, Neuter, Love. https://www.facebook.com/#!/pages/Project-Pets-Spay-Neuter-Love/160594203971240
I figured if I could just raise $50.00 it would be enough to pay for one female cat or dog to be spayed or neutered.  On Monday morning, Jo Burchfield, President of Project Pets presented me with a list of donors and their contributions; it was enough to pay for several procedures; female cats and dogs cost $50.00 and male cats $35.00. While some gave the requested dollar, others went above and beyond and each gift was appreciated. We have contacted each donor personally to thank them for their generosity.
Before you think that this is not significant, Jo will tell you that, "Given that two (unaltered) cats can add up to over 420,000 cats in a seven year period, it's easy to see how many lives are saved by spaying/neutering as many as possible."  As those active in the cause like to say, spaying and neutering is the most effective form of rescue there is.
A recent article in the Asbury Press written by Associate Press reporter, Sue Manning, confirms this fact. According to this piece, "higher rates of spaying and neutering in recent decades have cut the number abandoned puppies and kittens, which in turn have cut euthanasia rates."  The article goes on to note that prior to 1970, approximately 20 million companion animals were destroyed per year in the United States, but in 2011, fewer than 4 million homeless animals met that sad end. That is still an unacceptable figure, but demonstrates the positive effects of spay and neuter initiatives.
Today, I read that retail giant PetSmart is helping to promote S/N awareness.  Congratulations to them! http://www.petsmartcharities.org/spay-neuter/low-cost-spayneuter-program.html
The following presents my recent interview with Jo Burchfield (be sure to scroll down for photos below): 
Please share how this organization got started.  The idea to start Project Pets came after I tried cat rescue.  For the 6 animals we could pull, 10 more would show up at the shelter the next day, and another 7, etc.  It didn't take me long to realize that there was a need for more opportunities for spay/neuter, and specifically free spay/neuter options for the pet owners who couldn't afford to pay for the procedures. In some areas, even the low cost clinics were still too expensive.
What are your plans and goals for the upcoming year?  Obviously, we would like to grow and get more donations so more animals are spayed/neutered.  We also want to start focusing on education as many don't understand how important spay/neuter is and how in fact it does save lives. Yes, by preventing the birth of homeless babies, we also prevent the death of the ones that are not rescued.
I hear you may be getting your own website soon, can you elaborate?  In order to be found online, I have contacted a firm and they are designing a web page for us.  I met the owner on Facebook and he's an animal lover himself, specializing in web pages for pet companies, groups, etc.
When you talk about educating the public, how would you do this? At what age level do you think it is appropriate can you reach out?  The best way to educate is to reach the children.  During a spay/neuter seminar, I found out that the 3rd graders were pretty much the best one to reach.  And since children are the next generation of pet owners, it's important that they understand and respect the lives of animals.  Kids are also the one who can go to their parents and tell them they want their pets to be spayed/neutered because it's better for them.
And that last point is a major one.  Will Judy, Founder of National Dog Week got it right when he wrote, "We think dog ownership prepares the children early in life to develop into whole-souled members of the community, of what we term society and the state."
Knowing how important responsible pet "ownership" was to Will Judy, I am almost certain he would fully support the humane teaching of this most effective method of "forward thinking" rescue to the young.
Sorry…if you want the dark and snarky…go over the other "Post."  But if you want a nice story of a task well-done…read on.
"Unless someone like you cares a whole awful lot, Nothing is going to get better.  It's not."  Dr. Seuss, from the Lorax
The other day I got a call from Domenic, a young man who works at an Assisted Living Facility in town.  He said that someone had given him a flyer they had taken from a booth I had sponsored for Covers for Critters at our local Dog Fest event last September.  Dog Fest is a terrific event held here each year, sponsored by the Brick Township Rotary Club. (See post of May 1, 2011 for details).
Domenic asked if I was still interested in receiving old bedding, towels and sheets, etc. for a local Animal Shelters.  I said I was, but I also recalled that back in October another facility had offered, only to go back on their promised donation due to a "management decision" that said these items were needed elsewhere.  Domenic assured me it wasn't them (there are many establishments of this type in my town) and I told him I would be there early the next morning.
When I pulled into the lot, there he was with his helper, John, cleaning out a shed.  They told me to back in my van and proceeded to load it up with unused bags of bed comforters.
He then asked if we needed sheets and I said I would gladly take them….
I thanked him for taking the time and making the effort to contact after almost three months had gone by…he said he was a dog lover and hoped to have more for us in the future.
At this year's Dog Fest event, I also had young people participate in Nikki Moustaki's Pet Postcard Project by making a slew of postcards at my booth.  The PPP is a unique and fun way for people to help feed Shelter Pets one cup of kibble at a time…Nikki, an accomplished Dog Obedience Trainer, author and animal advocate is now blogging for the Dog Channel and tells me she has some exciting events planned in the New Year. http://betterwords.typepad.com/petpostcardproject/
Some people rescue, others rehab, some Foster and others cross post adoptable dogs and cats on Facebook…there are many ways everyone can contribute.  I write about issues affecting our Companion Animals, with these blog posts and the books I write.  My short story collection continues to do well as a Kindle Download and now is available in a Soft Cover version http://www.amazon.com/Somethings-Lost-Must-Found-ebook/dp/B0051ZMYG2   My first donation from some of my proceeds will go to Project Pets, Spay, Neuter, Love https://www.facebook.com/#!/pages/Project-Pets-Spay-Neuter-Love/160594203971240and will pay for the S/N of one pet.  According to the group's vice president, "Willie Wonka," "$50 pays for one dog to be neutered or one cat to be spayed. You know that means the world will have 1/2million less cats in ten years – or 300,000 dogs." Those are powerful statistics…and that's just with the "fixing" on one animal…
In the coming weeks, I am planning a special two-year anniversary post and then hope to present the forces behind the Ray of Hope Program of Kansas City http://hsgkc.org/rayofhopepage.html  and a young man named Sean Martin who started the Kids Adopt a Shelter Campaign on Facebook https://www.facebook.com/#!/KidsAdoptaShelter as well as some other individuals who are using their time and talents to make some lasting and significant changes in the way our Companion Animals are treated.
Happy New Year's all and thank you for your quiet support.
Welcome to my blog, established to bring about an intelligent dialogue about the state of the dog in the states of the nation. Learn more…please READ ABOUT.
http://www.facebook.com/mobileprotection#!/pages/National-Dog-Week/218596591491974 Please check out the new Facebook page for National Dog Week.
Please note that the on-line auction organized by Project Pets – Spay, Neuter, Love is still in progress until June 15th.  You can visit them on Facebook and join in the bidding that will help to improve the lives of many animals.
http://www.facebook.com/pages/Help-Save-Alabama-SpayNeuter-Clinic/223800927638796?sk=wall Please visit this site and show your support for the animal advocates in Alabama who are fighting to keep low-cost s/n clinics from being shut down!
Even back in 1928, the nation faced a problem with a large homeless pet population.  Will Judy, at the time the publisher of Dog World Magazine, a breeder, and internationally renowned dog show judge, established his National Dog Week Movement not to bring more dogs into the world, but to encourage American dog owners (and those abroad) to be better caregivers to the ones that were already here.  Now, nine decades later, have we done enough to embrace his mission?
Here is the second part of my interview with animal advocate "Willie Wonka" discussing his goal to have more animals spayed and neutered as one way to reduce the number of homeless  companion animals in the nation.  Here he talks about the health and behavioral benefits of having these procedures preformed. 
Please see Post of June 1 for the first part of this ongoing series.
Why don't more people have their pets altered?  When I discuss Spay/Neuter now, I am certainly talking about every homeless animal first, and then every pet that is in a home that is not being bred. Unless they (the owners) specifically need them intact, these animals should be spayed and neutered.  It is healthier for the animals and there are no "accidents" – the 1000's that happen every year. This needs to end – lazy and ignorant owners need to get responsible.  We need everyone to cooperate, or they'll keep dumping puppies on country roads, or at shelters.  Either way, they die.
What do you say to those who don't think these procedures are important?  Many are not aware of the health benefits of this procedure for their animals nor the harm that is done when their pets are allowed to have one litter.  The death of 5-7 million animals a year in Public Shelters is not the only reason S/N is important.  
Here are some other key points to consider:
 · Spaying your female dog before her first heat and neutering your male dog as close to six months as possible reduces tumors and some cancer possibilities by 200 times and will eliminate an infection of the uterus completely. In comparison, spaying a female before her second heat or waiting until a male is over a year old reduces the chances of tumors and cancer by twelve times.
 · The chances for developing breast cancer go down to almost zero if your pet is spayed before her first estrous cycle or heat (before she reaches sexual maturity).  Put another way, 95% of mammary cancer is eliminated when a female pet is spayed
· Early spays prevent unplanned, unwanted pregnancies. If your puppy or kitten becomes pregnant (puppies can become pregnant at younger than 6 months of age and kittens can become pregnant at as young as 4 months of age), it can be potentially damaging to her health, since she is very young. A young puppy or kitten is in no way suited for motherhood.
· If your male dog is neutered before he has learned to lift his leg and/or mount (at around 6 months of age), he most likely never will.  Neutering a male while he is young also reduces the desire to "wander " away from his home.  Males tend to mellow out a bit.
Thanks again to our dedicated contributor, Willie Wonka.  Please watch for related posts about different organizations throughout the nation who are doing their part to help more pets receive procedures that will ultimately help them find homes and live healthier, longer lives.
If you would like to learn about low-cost spay and neuter opportunities in your community, please let me know and I will try my best to help refer your inquiry to the right party.